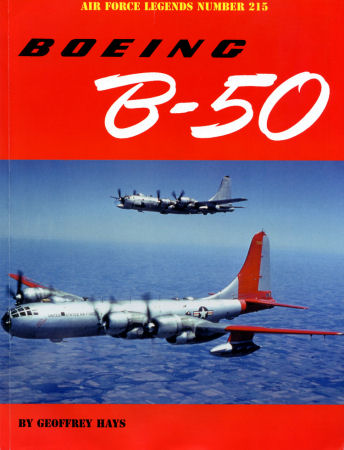 Boeing B-50 Book Review
| | | | |
| --- | --- | --- | --- |
| Date of Review | February 2013 | Title | Boeing B-50 |
| Author | Geoffrey Hays | Publisher | Ginter Books |
| Published | 2012 | ISBN | 9780984611492 |
| Format | 240 pages, softbound | MSRP (USD) | $49.95 |
Review
I just found the perfect reference for ACADEMY's 1:72 Superfortress kits.
The lavishly illustrated BOEING B-50 – number 215 in GINTER BOOKS' popular "Air Force Legends" series – sports 240 pages of incredibly in-depth information.
It's not your dad's B-29, either.  Bombers, tankers, trainers, weather birds and recon versions.  Inside and out.  From design and development through deployment and disposal, author Hays competently – and chronologically – chronicles the Superfortress in six sumptuous sections:
B-50A
B-50B, RB-50B, YB-50C, B/RB-54A & XB-55
B-50D & WB-50D
KB-50, KB-50J & KB-50K Tankers
B-50 Test & R&D Aircraft
TB-50A, TB-50D & TB-50H Trainers
Detail fanatics!  Grab your drool cups!  Over 700 photos and illustrations – many of the latter from USAF tech manuals – flavor this fulsome account.  Charts and diagrams further spice the study.  And concluding remarks offer helpful hints on accuratizing ACADEMY's offerings.  (Hint: some require ACADEMY's B-377 airliner.)
Crackerjack prizes abound.  Hays sows strategically placed color comments keyed to FS specs in text.  And coverage includes notes on the only B-50 lost to hostile action.  My inner "what-if" also appreciated addenda on Boeing's XB-54 and XB-55 proposals.
Irritants mar this otherwise outstanding effort.  Hays' copious compendium really required contents and indices for referencing.  And those page-wide paragraphs proved really irksome to read.  Multi-column formats work much better.
Gripes aside, get GINTER's splendid BOEING B-50.  It's the ultimate opus on this unsung Cold Warrior.
Strongly recommended.
With thanks to GINTER BOOKS!