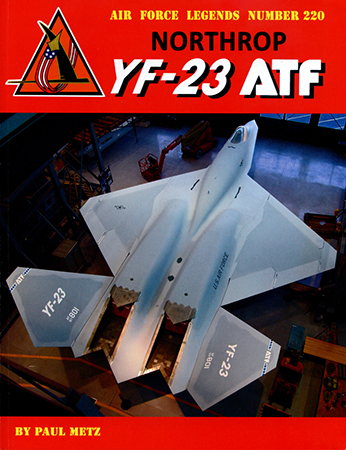 Northrop YF-23 ATF Book Review
| | | | |
| --- | --- | --- | --- |
| Date of Review | February 2017 | Title | Northrop YF-23 ATF |
| Author | Paul Metz | Publisher | Ginter Books |
| Published | 2016 | ISBN | 978-0989258371 |
| Format | 154 pages, softbound | MSRP (USD) | $49.95 |
Review
Northrop's YF-23 lost to Lockheed's YF-22 in the USAF's Advanced Tactical Fighter (ATF) competition, 23 April 1991.
The rest, as they say, is history.
And clearly the best of those is Northrop YF-23 ATF – number 220 in Ginter Publications "Air Force Legends" series.
Expertly authored by Paul Metz, Chief Test Pilot for the program, the compact, amazingly detailed study spans 154 lavishly illustrated pages.
Contents commence with a handy history of "stealth" – and the decades-long quest to blend low-visibility technologies with optimal fighter speed and maneuverability.
For the United States, those efforts culminated in the USAF's ATF competition. And Metz adeptly outlines the effort's relevant historical, developmental, operational, political and international factors. Supporting drawings confirm the incredibly rich response from American aerospace manufacturers.
Text then turns to the actual "clash of technical titans" – two consortiums of companies that brought the winning Northrop and Lockheed proposals to prototype.
Two Prototype Air Vehicles (PAV) YF-23s were built, PAV-1 "Spider" and PAV-2 "Gray Ghost" – the former sporting, for several test flights, a ventral red "hourglass" emblem in homage to Northrop's P-61 Black Widow. And Metz guides you through the ATF competition – and an absolutely spellbinding section on proposed YF-23 derivatives.
Halfway through the book, things turn meaty for modelers.
In typically "Ginter" fashion, coverage includes an incredible wealth of detail – all accompanied by color photos and authoritatively detailed drawings:
overall design details
cockpit, escape system and canopies
avionics
flight controls
propulsion systems
inlets and boundary layer control
fuel and hydraulic systems
weapons carriage
landing gear
miscellaneous details
Fates of the two prototypes follow. And coverage concludes with Ginter's usual modeling section – and two appendices.
Wow. From the extensive color photography through official drawings to terrific text, I consider this is the most fascinating "Air Force Legends" installment. And with so many excellent Ginter series antecedents, that's saying something.
Robustly recommended!
With thanks to Ginter Books!