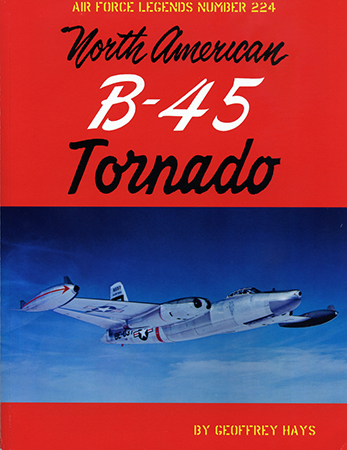 North American B-45 Tornado Book Review
| | | | |
| --- | --- | --- | --- |
| Date of Review | August 2021 | Title | North American B-45 Tornado |
| Author | Geoffrey Hays | Publisher | Ginter Books |
| Published | 2021 | ISBN | 978-1-7349727-9-5 |
| Format | 268 pages, softbound | MSRP (USD) | $56.95 |
Review
Some folks think all Ginter Books titles look the same.
And I thank God for that.
Exhibit A: North American B-45 Tornado by Geoffrey Hays – 224 in the publisher's respected "Air Force Legends" range.
Coverage explores the pioneering bomber and reconnaissance aircraft in dazzling detail – inside and out. Fourteen substantial sections across 268 fact-filled pages – including covers – tell the total tale:
Transforming Technologies
The XB-45s
The B-45A Description
The B-45C Description
The RB-45C Description
The B-45A in Service
The RB-45C in Service
The B-45's Place in USAF History
Tables and Data
Acronyms
Sources and References
The B-45 in Color, Part 1: Scale Models
The B-45 in Color, Part 2: Unit Insignia
The B-45 in Color, Part 3: The Aircraft
Design. Development. Deployment. And disposition. It's a one-volume library for both hobbyist and historian.
And in typical "Ginter fashion", the sumptuously seasoned study sports hundreds of illustrations – period photos, color shots, close-ups, scale drawings, tech-manual excerpts, cut-aways, and archival images.
Bombardier station. Pilots' cockpit. Landing gear configurations. Offensive weapons. Defensive systems. Warpaint. Even the thicknesses of exterior metal panels!
While the level of structural minutiae proved positively mind-numbing, operational specifics also abound.
How many "separate and sequential steps" did the B-45A-1 require for safe crew ejection? See page 59. How did the aircraft's "very unusual style of bomb bay doors" operate? Advance two more pages for the answer.
Concluding modeling commentary recaps B-45 kits to "box", 1:72, and 1:48 scales. This meaty monograph proves a potent project reference for any and all.
"The Air Force," author Hays concludes "needed a first-generation jet bomber to identify and understand the unknowns of jet aviation" – the trailblazing B-45. Find out how – and why. Grab this illuminating account.
Roundly recommended!
With thanks to GINTER BOOKS!