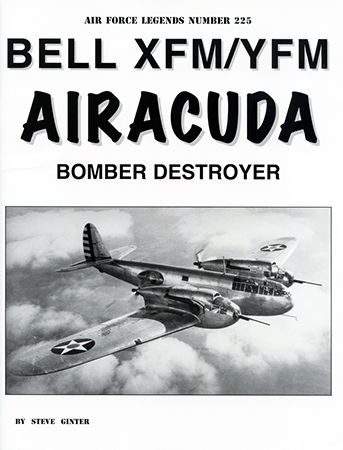 Bell XFM-1/YFM-1 Airacuda Book Review
| | | | |
| --- | --- | --- | --- |
| Date of Review | October 2022 | Title | Bell XFM-1/YFM-1 Airacuda |
| Author | Steve Ginter | Publisher | Ginter Books |
| Published | 2022 | ISBN | 979-8-9854726-8-4 |
| Format | 48 pages, softbound | MSRP (USD) | $19.95 |
Review
My ten-year-old eyes first caressed Bell's comely Airacuda in a well-worn copy of Alexander de Seversky's 1942 classic, Victory Through Air Power.
With art deco streamlining, pusher props, and bristling weaponry, it looked like nothing my prepubescent peepers ever spied. It was puppy love at first sight.
Now Steve Ginter rekindles my youthful affair in Bell XFM-1/YFM-1 Airacuda – number 225 in his "Air Force Legends" range.
The subtitle "Bomber Destroyer" betrays the aircraft's intended mission: preemptive, long-range destruction of attacking enemy warplanes.
Shoehorning the total tale into just 48 pithy pages, Ginter surveys the total tale. He also spreads eye candy everywhere.
Over a hundred photos chart Airacuda design and development. Close-ups and tech-manual excerpts explore specifics. And drawings illumine the aircraft's almost pulp-fiction look.
Details abound. What diameter were main-gear wheels? See page 24 – and fact-check your 1:72-scale Valom kit.
Speaking of which: this wouldn't be a Ginter Book without a concluding hobby section. And author Ginter offers a handy, five-page survey of Airacuda models.
I didn't know that FE Resin produced a limited-edition XFM-1!
Bell constructed only 14 Airacudas – the prototype and 13 preproduction examples. But, alas, all were gone by Pearl Harbor.
Pity. Airacuda embodied the type of long-range, interceptor solution theorist de Seversky espoused. Lucky for future WWII aviators, reality thumped theory – and events proved the graceful design impractical.
Robustly recommended!
With thanks to GINTER BOOKS!