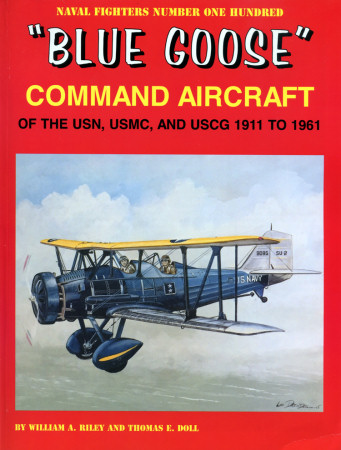 Blue Goose Book Review
| | | | |
| --- | --- | --- | --- |
| Date of Review | April 2015 | Title | Blue Goose |
| Author | Steve Ginter | Publisher | Ginter Books |
| Published | 2015 | ISBN | 9780989258388 |
| Format | 132 pages, softbound | MSRP (USD) | $35.95 |
Review
Long a footnote in US Navy aviation history and heraldry, Command Aircraft bore some of the service's most colorful schemes.
Now they're the subject of a superb, lavishly illustrated study from Ginter Books.
The title tells the total tale. Number 100 – yes, Virginia, 100 – in the publisher's perennially popular "Naval Fighters" series, "Blue Goose": Command Aircraft of the USN, USMC, and USCG 1911 to 1961 spans the whole, stupendous story in 132 pages. And that includes the cover.
From Secretaries of the Navy and Flag Officers to commanders of ships, squadrons and units, Command Aircraft served only highest-level civilian officials and naval officers.
William A. Riley and Thomas E. Doll kick-off coverage with notes on rank placards, early US Navy aviation and carriers.
Authors trace earliest dedicated Command Aircraft schemes to the mid-1920s. At that point, some ranking officers' machines began wearing attractive dark blue fuselages with silver wings and tail surfaces. Thought to have mirrored contemporary Admiral Barge livery, the practice received official sanction as "Class I" and "Class II" patterns a decade later.
The exact dark blue shade, however, remains a mystery. But based on witness descriptions, the authors posit insignia blue FS 15044 as the probable match for "Admiral Blue". And "So be it", they dauntlessly decree!
Aircraft themselves fell into multiple categories. Many were one-of-a-kind. Some were prototypes. Others were civilian machines. Still others were production warplanes. All wore vivid, Command Aircraft plumage. And all enjoy Ginter's typically terrific photographic coverage.
Subjects range from the truly commonplace to the boldly exotic. You'll find familiar F4Bs, SBCs and R2Ds in Blue Goose dress. You'll also spot rara aves like a French-built Caudron C-620 and de Havilland XDH-89 Puss Moth in similar schemes. How about that Kinner XRK-1 and Lockheed XRO-1?
Markings turned downright subdued with World War II's advent. But at least one Blue Goose actually "drew blood". USMC Gen Roy S Geiger's PBY-5A, rigged with surplus VT-8 torpedoes, hit a Japanese transport off Guadalcanal. And sure enough, Ginter's book includes a shot of Geiger's combative Catalina.
The jet era brought a return to more colorful livery. And Riley and Doll duly recap those schemes – including CAG birds – to 1961.
Ginter packs 15 color illustrations, 13 color photos, 435 B&W photos and nine B&W illustrations into "Blue Goose". Srecko Bradic's excellent profiles provide plenty of modeling inspiration. But his 1941-42 pale gray looks almost white.
Gosh, I nitpick. I absolutely loved this book. Looking for a lip-smacking Beech Staggerwing, Grumman Duck or Curtiss Seagull scheme? Seeking a spin on SNJ or OS2U markings? Grab Ginter's cool, colorful compendium.
Rabidly recommended!
With thanks to Ginter Books!