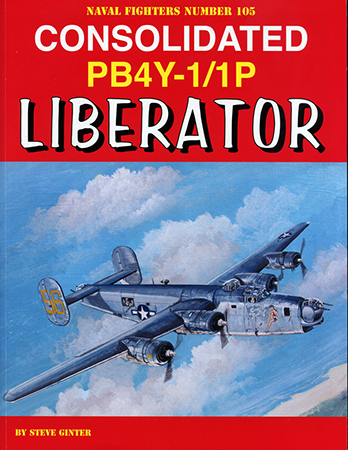 Consolidated PB4Y-1/1P Liberator Book Review
| | | | |
| --- | --- | --- | --- |
| Date of Review | January 2018 | Title | Consolidated PB4Y-1/1P Liberator |
| Author | Steve Ginter | Publisher | Ginter Books |
| Published | 2018 | ISBN | 978-0-9968258-7-0 |
| Format | 244 pages, softbound | MSRP (USD) | $49.95 |
Review
Take a long-range, land-based USAAF heavy bomber with proven performance, payload and range. Then adapt it for WWII maritime bombing, sub-hunting and reconnaissance roles.
It's the Consolidated B-24D. And in US Navy hands, it became the PB4Y-1/1P Liberator – progenitor of the legendary Privateer line.
Now it's the subject of a Ginter Books monograph – number 105 in the publisher's perennially popular "Naval Fighters" range.
Coverage commences with the USN decision to seek land-based alternatives to traditional flying-boat designs. Acquiring relatively off-the-shelf B-24Ds – and, later, B-24Js – proved particularly propitious. And 77 were initially purchased.
Author Steve Ginter then charts adaptions to US Navy and Royal Navy use – including powered bow turrets to replace the earlier, fully glazed nose position.
Ginter's terrific, lavishly illustrated, 244-page tome surveys the whole saga. ASW equipment. Defensive armament. Bomb loads. Interior equipment. Cockpit instrumentation. Even landing gear.
It's a typical "Ginter production". Hundreds of photos, drawings, and tech-manual excerpts season the study. Production tables, performance specifications, and airframe dimensions further flavor the fulsome feast. And literally thousands of detail specifics will make AMS sufferers lick their eyebrows in project anticipation.
Unit histories also chart the Liberator's naval combat record. And Ginter neatly wraps things up with a 13-page survey of model kits and accessories.
Nitpicks?
According to Alan Griffith's Consolidated Mess, page 5's "Oklahoma city nose modification" was actually an alteration by Middletown Air Depot, near Harrisburg, PA. That's really a Mitsubishi Ki-51 "Sonia" atop page 215. And an index would be great.
But I quibble. Consolidated PB4Y-1/1P Liberator is a great resource for B-24 fans, modelers, and historians. Add it to your library.
Recommended!
With thanks to Ginter Books!