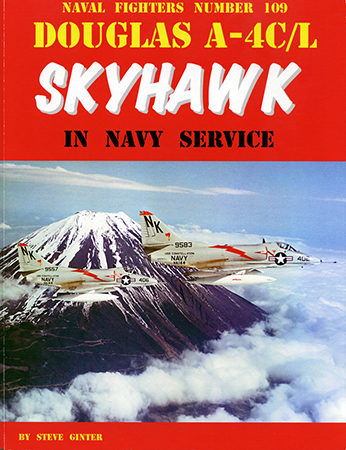 Douglas A-4C/L Skyhawk In Navy Service Book Review
| | | | |
| --- | --- | --- | --- |
| Date of Review | July 2019 | Title | Douglas A-4C/L Skyhawk In Navy Service |
| Author | Steve Ginter | Publisher | Ginter Books |
| Published | 2019 | ISBN | 978-0-9993884-6-4 |
| Format | 194 pages, softbound | MSRP (USD) | $39.95 |
Review
Eye candy everywhere.
Several hundred B&W & color photos, detail shots, tech-manual excerpts, drawings, and unit badges.
That's Douglas A-4C/L Skyhawk In Navy Service – 109 in Ginter Books' vast "Naval Fighters" range and sixth in the publisher's ongoing Scooter series.
With 638 airframes produced, A-4Cs remain the most-manufactured Skyhawk version. Re-designated A-4L, 100 upgraded examples received fleet-compatible tactical and defensive electronics during the Vietnam War.
Steve Ginter recaps the type's design, development, deployment, and disposition across 194 picture-packed pages – including cover.
Seeking cockpit details? They're here. How about armament options? Yep. Dimensions and specifications? Definitely. Unit use? Every one – with BuNos. Even civilian service? That, too.
And more.
How about that entry in the U.S. Army's 1961 Forward Air Control combat jet evaluation?
Author Ginter shoehorns – across a whopping 193 sections – practically every facet of U.S. Navy A-4C service into his solid survey.
But he throws "Naval Fighters" series fans a slight curve.
Ginter condenses kit coverage to just two pages – near the book's end. And those showcase just two subjects: Fujimi's 1:72 and Hasagawa's 1:48 boxings. So don't expect, as I did, to crack the back cover to several pages of Ginter's typical model reports.
Instead, you get ten pages of gorgeous color shots – more than adequate compensation, I'd say, for the somewhat succinct scale section.
Captions and tables also augment the account. And a one-page chart, plainly parsing seven Skyhawk versions, conveniently completes contents.
Hobbyists and historians alike will love Ginter's colorful A-4C compendium. I certainly did. I'd just like to know Federal Standard paint matches for that camouflaged VA-113 bird atop page 192!
Recommended!

With thanks to Ginter Books!