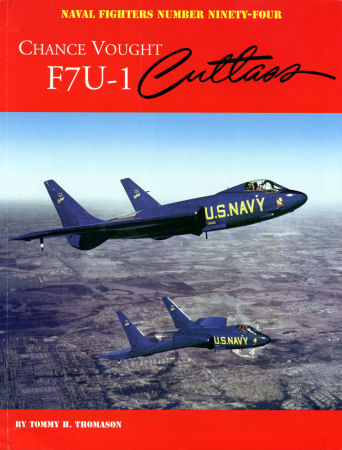 Chance Vought F7U-1 Cutlass Book Review
| | | | |
| --- | --- | --- | --- |
| Date of Review | December 2012 | Title | Chance Vought F7U-1 Cutlass |
| Author | Tommy H. Thomason | Publisher | Ginter Books |
| Published | 2012 | ISBN | 9780984611478 |
| Format | 131 pages, softbound | MSRP (USD) | $29.95 |
Review
Thirty years sure blitz by.  That's how long since GINTER BOOKS published its first F7U foray.  And that classic compendium shoehorned all versions into just 107 pages.
Now 88 "Naval Fighters" later, Tommy H. Thomason revisits Chance Vought's classic Cutlass – and details just prototype and "Dash-1" types in 24 more pages.
And what a wild ride it is.  CHANCE VOUGHT F7U-1 CUTLASS – No. 94 in GINTER's celebrated series – launches with initial U.S. Navy jets, sideslips to Chance Vought proposals, and climbs through technology teething turbulence.
Contents hit cruising altitude with astonishing amounts of early Cutlass minutiae – before glimpsing main "Dash-3" variants on distant horizons.  Coverage then prangs in concluding kit comments on the piteous paucity of accurate "Dash-1" models!
An outstanding level of informative detail really marks this sumptuous study.  Especially impressive are illustrations and charts tracking F7U design development and program progress.  Add nearly 300 photos and tech manual excerpts – and GINTER's "pictures" truly impart thousands more words beyond Thomason's terrific text.
Just how problematic were those first, futuristic Cutlasses?  I won't spoil it.  But the author includes renowned Royal Navy test pilot Eric Brown's tart remarks.  And the USAF roundly rebuffed multiple Chance Vought production proposals.
Hints aside, get the details in GINTER's ripping read.  Then pray for a "Dash-3" sequel – and an accurate "Dash-1" kit to any scale!
Strongly recommended.
With thanks to GINTER BOOKS!