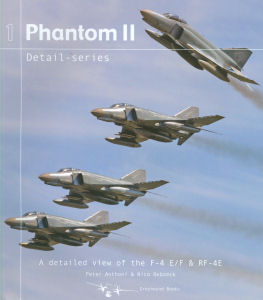 Phantom II Book Review
| | | | |
| --- | --- | --- | --- |
| Date of Review | February 2008 | Title | Phantom II |
| Author | Peter Anthoni & Nico Deboeck | Publisher | Greyhound Books |
| Published | 2008 | ISBN | N/A |
| Format | 134 pages, softbound | MSRP (Euro) | Out of Print |
Review
If you're familiar with DACO's excellent series of super-detailed aircraft reference books like " Uncovering the Boeing F/A-18A/B/C/D Hornet", then you'll know what I'm talking about when I introduce you to this new title from Greyhound Books. If not, you're missing out on some of the finest photo-references on specific aircraft references in print.
This title follows in the same path as the DACO series and this concentrates on a phavorite subject, the McDonnell Douglas F-4E, F-4F, and RF-4E Phantom IIs. The title is broken down as follows:
Exterior
Cockpit
Action!
Maintenance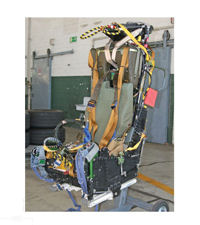 Most of the coverage of this excellent title is centered around the current (or recent) operators of the Phantom: Germany, Greece, Turkey, Israel, and Japan. With the exception of a few historical photos of USAF F-4Es, this title is filled with contemporary high-quality full-color imagery of the Phantoms in service. The exterior section shows some interesting details that never appeared on USAF Phantoms, but might have been there had the Phantom soldiered on longer in USAF or ANG service. For example: Greek Phantoms with the same bird-cutter antennas on the nose as Block 50/52 CCIP F-16s; these same Greek Phantoms with the same ECM fairings on the intakes as USN F-4Ns; German Phantoms with AMRAAM; and more!
In the cockpit section, there are some great shots of the front offices, some in the standard configuration flown by the USAF, and some with varying degrees of modernization to 'glass cockpit' modernization. The action shots are all excellent and the authors have compiled some colorful commemorative schemes that only NATO Phantoms could wear. Then there are those colorful JASDF Phantoms...
The maintenance shots will be very useful to the AMS modeler as the authors have done some nice photography of various Phantoms undergoing extensive maintenance and therefore showing lots of uncovered details!
If you have a Phantom project coming up or are a Phantom Phan, you're going to want a copy of this nice title as you won't find many good photos of this aircraft shot in as much detail using still-operational examples. Those of you who've tried to work from museum restorations know what I mean.
Very highly recommended!
My sincere thanks to Greyhound Books for this review sample!