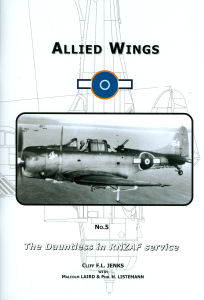 The Dauntless in RNZAF Service Book Review
| | | | |
| --- | --- | --- | --- |
| Date of Review | October 2008 | Title | The Dauntless in RNZAF Service |
| Author | Cliff F.L. Jenks | Publisher | Philedition |
| Published | 2008 | ISBN | 978-295-26-3819-7 |
| Format | 38 pages, softbound | MSRP (Euro) | 13.50€ |
Review
Here is an interesting monograph in the Allied Wings series from publisher Phil Listeman. In this title, author Cliff Jenks has assembled the combat summary of the Douglas SBD Dauntless in Royal New Zealand Air Force service.
The story of the Dauntless in RNZAF service focuses on the sole operator of the type - Number 25 Squadron which was stood up to operate a group of war-weary US Marine Corps SBD-3 and SBD-4 airframes after the previous operators were rotated home for rest and training.
Since these first aircraft were literally 'hand-me-down' airframes, the initial training of 25 Squadron was protracted since only 40% of the aircraft could be made airworthy at any given time, and that was with the help of experienced Marine maintainers helping out and cannibalizing some aircraft to get others into the air.
Once the squadron grew in strength and operational capability, they were chartered to operate alongside US airpower on the suppression of the Japanese bases at Rabaul. Over the squadron's year-long operations, they conducted air assaults on the Japanese, with an infusion of SBD-5 airframes in early 1944. Once their Rabaul objectives were achieved, 25 Squadron was disbanded and these experienced crews were transitioned over to the Corsair.
This title is nicely illustrated with period photos and color profiles to show the colors and markings that distinguished the RNZAF Dauntlesses from their American counterparts. The title also has numerous tables to document the bureau numbers transferred to the RNZAF, their corresponding NZ registration codes, and their sorties.
This monograph is to the point and clearly tied together by extensive research that has been collated by database views.
This title is highly recommended and I certainly hope to see many more in this format in the future!
My sincere thanks to Phil H. Listemann for the review sample.