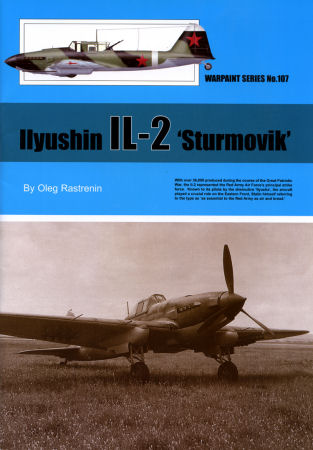 Ilyushin Il-2 'Sturmovik' Book Review
| | | | |
| --- | --- | --- | --- |
| Date of Review | April 2016 | Title | Ilyushin Il-2 'Sturmovik' |
| Author | Oleg Rastrenin | Publisher | Guideline Publications |
| Published | 2016 | ISBN | n/a |
| Format | 56 pages, softbound | MSRP (GBP) | £14.00 |
Review
"They are as essential to the Red Army as air and bread," Joseph Stalin said of Ilyushin's Il-2 Sturmovik. "I demand more ... ."
Now the legendary Soviet warplane enjoys full "Warpaint" treatment in number 107 of the perennially popular series – Ilyushin Il-2 'Sturmovik'.
Author Oleg Rastrenin recaps design, development and deployment in just 56 lavishly illustrated, competently chronicled pages.
Modelers will love this installment. Text includes beautifully drafted 1/72-scale drawings and ten pages of color plates – all by Andrey Yurgenson. Archival drawings and B&W photos augment the account.
A two-page "In Detail" spread also highlights key design details. And a final two-page list summarizes Sturmovik kits, decals and accessories.
Author Rastrenin recaps all key upgrades and iterations – including the unsuccessful fighter version. These total the bulk of the book. Combat coverage, by contrast, consumes less than ten pages.
Text also presupposes knowledge of Soviet designations, terminology and technology. What is a "Toropov VUB-3"? The mount for a UBT machine gun? How exactly was the "DA machine gun ... used to repel side-on attacks by fighters"? And was it supplemental or replacement armament?
Possibly because of translation issues, diction sometimes sounds stilted, too. What does the "aircraft became more inert" mean? More sluggish? I suspect that small fairings – not "cowlings" – enclosed 37mm wing canon. And what are "cumulative warheads"?
Over 36,000 Il-2s were manufactured – the largest single warplane production run in history. But unless I'm math-challenged, the author's tallies of Il-2 losses simply don't compute: they exceed accepted manufacturing figures.
Finally, purists might prefer the more accurate transliteration "Shturmovík" or "Schturmovík" – both employed in recent, authoritative Il-2 histories from Russian researchers.
None if this, however, detracts from the value of this slim study. I love the Il-2. And Warpaint's proven package blends history and heraldry into one convenient compendium.
Il-2s, the author concludes, "contributed in no small way to the Red Army Air Force gaining strategic air supremacy" during World War II. This excellent little introduction deftly distills the importance and impact of Ilyushin's truly legendary design.
Robustly recommended!
My sincere thanks to Guideline Publications for this review sample!