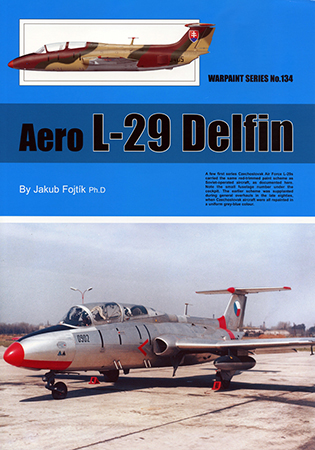 Aero L-29 Delfin Book Review
| | | | |
| --- | --- | --- | --- |
| Date of Review | December 2022 | Title | Aero L-29 Delfin |
| Author | Jakub Fojtik | Publisher | Guideline Publications |
| Published | 2022 | ISBN | n/a |
| Format | 72 pages, softbound | MSRP (GBP) | £21.00 |
Review
It's about time.
The Warsaw Pact's principal, pivoting, and pioneering Cold War jet trainer finally gets full English-language treatment in a lavishly illustrated "Warpaint" edition.
Number 134 in the perennially popular range, Aero L-29 Delfin broadly divides into three parts across 72 lavishly illustrated pages:
design, development, and derivatives
international deployment
"in detail" coverage
Author Jakub Fojtik leavens his succinct study with over 100 color and B&W photos, close-ups, and color profiles. And he packs his chronicle with fascinating facts and captivating commentary.
Echoing MiG-15 gestation, for instance, how about the role of Western propulsion technologies in L-29 development? And how about the parochial politics infecting the momentous Monino fly-off against Soviet Russia's Yak-30 and Poland's TS-11 Iskra?
It's hard to understate the importance of the L-29 to Cold War history. "Literally every Soviet pilot trained in the late 1960s and 1970s," Fojtik contends, received training on the type.
But what is a "direct" horizontal stabilizer? Exactly why were pilots required to "empty their pockets before climbing into the cockpit"?
Also, to Egyptian transliteration standards, that's "Gamal Abdel Nasser" – not "Gamal Nasir". And why isn't Uganda shown on "the global distribution [map] of L-29 operators"?
These and other quibbles don't seriously diminish the value of Warpaint's handy handbook. But color profile choices proved disappointingly dull.
After all, many modelers buy Warpaint titles for pretty pictures. And aside from two post-1992 Slovak Delfins, all artwork depicts Czechoslovak or Czech Republic subjects. Author Fojtik and artist Petr Kolmann completely ignored the vibrant swath of Warsaw Pact, Arab, post-Soviet "CIS", African, and Indonesian L-29s – notably the range of global camouflage schemes.
Still, I enjoyed this Warplane installment. Now perhaps Fojtik will favor us with an equally informative study of Delfin's prolific successor, the L-39 Albatros.
Recommended!
My sincere thanks to Guideline Publications for this review sample!