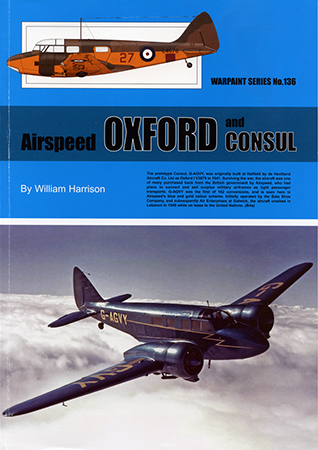 Airspeed Oxford and Consul Book Review
| | | | |
| --- | --- | --- | --- |
| Date of Review | March 2023 | Title | Airspeed Oxford and Consul |
| Author | Sam Pearson | Publisher | Guideline Publications |
| Published | 2023 | ISBN | n/a |
| Format | 48 pages, softbound | MSRP (GBP) | £18.00 |
Review
During WWII, nearly 9,000 Airspeed Oxfords proved vital to British Commonwealth and empire multi-engine training efforts.
Variants instructed fledging air crew in bombardment, navigation, transport, photography, communications, and gunnery duties. Others labored as squadron hacks and utility machines. And hundreds saw worldwide postwar use – in both military (Oxford) and civilian (Consul) roles.
Now in breezy prose tinged with insouciant asides, William Harrison tells the terrific tale in Airspeed Oxford and Consul – 136 in the extensive "Warpaint" range.
Fans of the series will recognize the familiar format.
Contents commence with commentary on Oxford's immediate antecedent – the Airspeed Envoy. Text next turns to Oxford design and development. And core coverage continues with illuminating deployment and service notes – in war and peace.
How about that patently aggressive-looking Burmese Oxford?
Illustrations include color and B&W photos, archival art, and 1:72-scale plans. Over 50 color plates – profile and plan views – sample the vivid swath of Oxford, Consul, and Envoy schemes. And extended, explanatory captions accompany images.
Tables and specifications also augment the account. And a page of close-ups explores the subject "in detail".
But Iraqi Savoia-Marchetti bombers during 1941's Anglo-Iraqi War were twin-engine S.79B variants – not main-production trimotor types. And did Argentina receive ten – or three – Oxfords? Text and table disagree.
Building FROG's ancient 1:72 Oxford? How about Tasman's similarly scaled effort? Or Special Hobby's 1:48 kit? Grab this handy handbook.
Recommended!
My sincere thanks to Guideline Publications for this review sample!