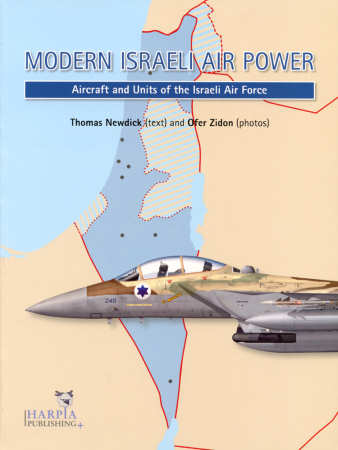 Modern Israeli Air Power Book Review
| | | | |
| --- | --- | --- | --- |
| Date of Review | October 2013 | Title | Modern Israeli Air Power |
| Author | Thomas Newdick | Publisher | Harpia Publishing, LLC |
| Published | 2013 | ISBN | 9780985455422 |
| Format | 256 pages, softbound | MSRP (USD) | $64.95 |
Review
In Modern Israeli Air Power – subtitled "Aircraft and Units of the Israeli Air Force" – Harpia offers a potent précis on one of the world's most powerful and professional air arms.
And author Thomas Newdick wonderfully recaps the current state of the Israeli Air and Space Force (IASF).
With notes on service history and recent combat, the first four chapters provide a solid introduction to the IASF.  Contents then course, type-by-type, through all categories of current Israeli warplanes – fighters, transports, attack helicopters, assault transport helicopters, special mission types, UAVs and trainers.  A section on IASF ordinance – both Israeli and US – follows.
Coverage continues with nine chapters on nine major air bases.  Each includes a capsule history and list of serving squadrons.  And a concluding section on the IASF's new Air Defense Command includes timely notes on the country's three-tiered ballistic missile defenses – including Iron Dome.
Nearly 300 gorgeous color photos by Ofer Zidon enrich Harpia's illuminating effort.  A handy list of abbreviations augment text.  And three appendices neatly wrap things up.  These cover Israel's air order of battle, camouflage & markings, and Israeli aircraft type names – the last in Hebrew for us who read the language!
Just a couple gripes.  Israeli A-4N camouflage green is FS34227 – not FS34424.  And just three color profiles – all on the back cover – spice this story.  I guess this publisher's previous titles, replete with Tom Cooper's excellent artwork, spoiled me!
Harpia has forged a deservedly brilliant reputation with gems like these.  Interested in modern Israeli airpower?  A student of Middle East conflict?  Get this book.
Robustly recommended!
With thanks to Harpia Publishing for the review copy.