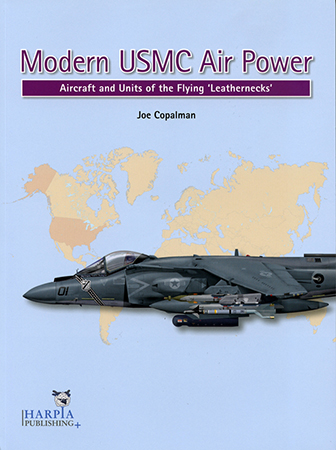 Modern USMC Air Power: Aircraft and Units of the Flying 'Leathernecks Book Review
| | | | |
| --- | --- | --- | --- |
| Date of Review | February 2021 | Title | Modern USMC Air Power: Aircraft and Units of the Flying 'Leathernecks |
| Author | Joe Copalman | Publisher | Harpia Publishing, LLC |
| Published | 2021 | ISBN | 9781950394029 |
| Format | 256 pages, softbound | MSRP (Euro) | $59.95 |
Review
When President Jimmy Carter touted a multi-service "Rapid Deployment Force", a more historically astute wag quipped that America already had one for 200 years – the United States Marine Corps.
Now Harpia Publishing details a key component of the multi-dimensional, multi-capable expeditionary service in Modern USMC Air Power – available in North America from Casemate.
Subtitled "Aircraft and Units of the Flying 'Leathernecks'", author Joe Copalman's solid, 256-page opus superbly surveys the subject's past two decades in 15 lavishly illustrated chapters.
Fascinating facts liberally leaven the study. And I especially enjoyed his coverage of unmanned aerial platforms – arguably the commonest clue to "digital" transformations of air forces worldwide.
Modelers, too, will value Copalman's illuminating account.
Want an eye-catching conversion for your next contest entry? How about a Hellfire-armed, Harvest HAWK KC-130J? Or a projected 2023 "Battleherk" with two wing missile stations, four standard wing tanks, and two door-mounted Mk 44 30mm Bushmaster canons?
Eye-candy abounds.
Dozens of photos – almost all in crisp, clear color – depict current Marine air assets. USMC unit art also enhances the effort. And a QR Code links readers to even more images.
An abbreviations list, extended captions, command schematics, summary tables, maps, selected bibliography with QR Code to more sources, and index complete contents.
But read carefully: not all abbreviations make the list. All those unattributed quotations proved troubling. And pre-packaged jargon like "community" annoyed. Why not "ranks"? After all, Leatherneck warriors remain Copalman's core concern.
Still, his meaty monograph ably recaps the last two decades of Marine Air-Ground Task Force "transitions" – evolutionary and revolutionary. Make it your entrée to this seminal security subject.
Recommended!
With thanks to Casemate for the review copy.