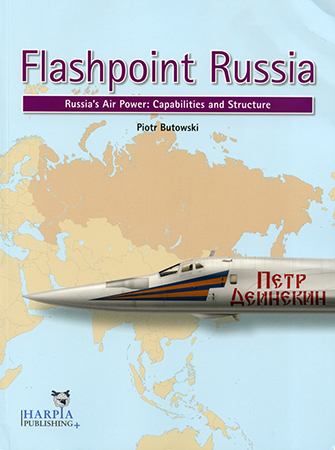 Flashpoint Russia: Russia's Air Power Book Review
| | | | |
| --- | --- | --- | --- |
| Date of Review | August 2019 | Title | Flashpoint Russia: Russia's Air Power |
| Author | Piotr Butowski | Publisher | Harpia Publishing, LLC |
| Published | 2019 | ISBN | 9780997309270 |
| Format | 142 pages, softbound | MSRP (USD) | $39.95 |
Review
Its GDP ranks smaller than Italy's. And precarious fossil-fuel exports generate 60% of its annual budget. Yet it can project military might on global scales.
It's Russia. And spear tip of its international reach remains its Aerospace Forces – the VKS.
Now Piotr Butowski surveys today's Russian airpower in Flashpoint Russia from Harpia Publishing – available in North America from Casemate.
And the subtitle says it all. "Russia's Air Power: Capabilities and Structure" spans three chunky chapters over 142 picture-packed pages:
Development of the structure of Russia's air arms
Aviation assets in Russia's military structures
Military aircraft acquisition policy
Contents recap Aerospace Forces and Naval Aviation – as well as Federal National Guard, Federal Security Service, and Federal Guard Service aviation assets.
Coverage also navigates command and structure changes since 1991 – and summarizes combat, training, support, and basing capabilities.
Designations. Locations. Personnel. Equipment – fixed- and rotary-wing. Movements. It's all here.
Dozens of images – color photos, unit heraldry, insignia – illustrate the effort. Tables, flow charts, maps, sidebars, ORBATs, and appendices also augment the account. And it perfectly compliments the author's earlier, two-volume survey of Russia's Warplanes – also from Harpia.
But it could certainly use an acronym glossary.
Roundly recommended!
With thanks to Casemate for the review copy.