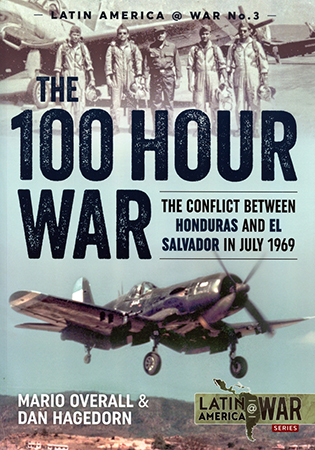 The 100 Hour War Book Review
| | | | |
| --- | --- | --- | --- |
| Date of Review | February 2018 | Title | The 100 Hour War |
| Author | Mario Overall, Dan Hagedorn | Publisher | Helion |
| Published | 2017 | ISBN | 9781911096504 |
| Format | 72 pages, softbound | MSRP (USD) | $49.95 |
Review
The so-called 1969 "Soccer War" between El Salvador and Honduras ranks among the 20th Century's most misunderstood clashes.
Now Mario Overall and Dan Hagedorn probe the conflict's "maze of myths, half-truths and gross exaggerations that have gained a life of their own during the intervening years" in The 100 Hour War – third installment in Helion's superb "Latin America @ War" series.
Available in North America from Casemate, format follows the publisher's proven prescription. After a brief introduction, contents commence with two chapters on the war's antecedents – notably contributing economic and demographic factors, and El Salvador's meticulous, multi-year invasion planning. A third recounts events immediately prior to fighting.
Both nations came to blows in mid-July 1969. And six subsequent chapters chronicle, day-by-day, the conflict's air and land actions. Fighting lasted four days – hence, "The 100 Hour War".
Fascinating facts and absorbing accounts abound.
With FAH Captain Fernando Soto's three confirmed victories, the conflict forged fame as the last time WWII-vintage warplanes clashed in air-to-air combat. And an armed trainer – Fuerza Aérea Hondureña T-28A FAH-212 – pursuing Salvadoran warplanes over Tegucigalpa, actually hit an enemy FG-1D Corsair, damaging the attacker.
For its part, the Fuerza Aérea Salvadoreña had requisitioned 14 privately owned aircraft – and converted these to makeshift warplanes. And on the first day of hostilities, "[t]o everyone's surprise", only civilian pilots flying "mostly light Cessna and Piper types" successfully attacked "their assigned targets".
Most surprising, perhaps, was the revelation that "Americans had helped to plan [Salvador's] invasion and then had cut off military assistance when it happened"!
Over 100 photos illustrate the account. Twenty-two of Tom Cooper's excellent color profiles also survey the swath of participating Honduran and Salvadoran aircraft. And five maps help chart actions. Two appendices, a selected bibliography, and endnotes neatly wrap things up.
Helion has forged deserved fame for gems like this. More, please. Much more.
Roundly recommended!
My sincere thanks to Casemate Publishing for this review sample!