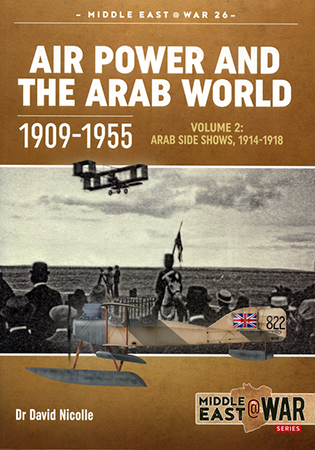 Air Power and the Arab World 1909-1955, Volume 2 Book Review
| | | | |
| --- | --- | --- | --- |
| Date of Review | May 2021 | Title | Air Power and the Arab World 1909-1955, Volume 2 |
| Author | David C. Nicolle | Publisher | Helion |
| Published | 2020 | ISBN | 9781913118761 |
| Format | 88 pages, softbound | MSRP (GBP) | $29.95 |
Review
Respected historian David Nicolle resumes his engaging exploration of Air Power and the Arab World 1909-1955 in the 26th entry of Helion's terrific "Middle East@War" series.
Subtitled "Arab Side Shows, 1914-1918", Volume 2 surveys aerial actions over Arab African and Middle Eastern territories during WWI.
Five illuminating chapters over 88 picture-packed pages recap events. And colonial powers understandably dominate coverage: Ottoman, British, Egyptian, French, Italian, and Spanish.
But Nicolle seasons virtually every section with riveting revelations on combatants, equipment, and clashes. And notably in Chapter 2 on Egypt's nascent military contributions, text hints at future coverage of indigenous Arab air arms. I can't wait for that.
The lavishly illustrated study sports dozens of rare, period photos. Maps helpfully place events into geographic context. And 20 superb color plates by Tom Cooper and Luca Canossa survey the swath of local warplane types and schemes.
As with volume 1, however, the lack of endnotes proved particularly painful. So if you seek, say, further study of the Darfur campaign or French policies on poison gas use, you must glean leads from Nicolle's admittedly respectable list of sources in multiple languages.
Diction occasionally sounds strained, too. Is the author, for instance, confusing "moral" for "morale" on pages 28 and 70?
Nitpicks aside, I loved this illuminating installment – and eagerly await its sequels.
Roundly recommended!
My sincere thanks to Casemate for this review sample!