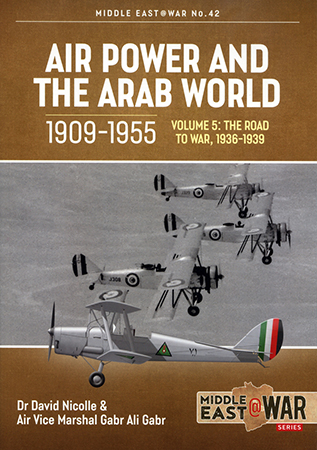 Air Power and the Arab World 1909-1955, Volume 5 Book Review
| | | | |
| --- | --- | --- | --- |
| Date of Review | June 2022 | Title | Air Power and the Arab World 1909-1955, Volume 5 |
| Author | David C. Nicolle, with Gabr Ali Gabr | Publisher | Helion |
| Published | 2022 | ISBN | 9781914377235 |
| Format | 80 pages, softbound | MSRP (USD) | $29.95 |
Review
Volume 5 of Air Power and the Arab World edges ever closer to WWII in the 42nd installment of Helion's splendid "Middle East@War" range.
Available in North America from Casemate and subtitled "The Road to War, 1936-1939", contents illumine growing international and internecine tensions in nascent Arab air arms – notably in Saudi Arabian, Iraqi, and Egyptian militaries.
As with previous volumes, commentary illumines the military, economic, political, and even social factors fueling events.
Authors David Nicolle and the late Gabr Ali Gabr also explore concurrent regional activities of European powers on the path to war.
Italian aircraft sales to Iraq and Saudi Arabia, for instance, enjoy agreeable attention. British and Jewish "Zionist" regional actions endure special, usually negative, scrutiny. And French coverage remains comparatively minimal.
Crackerjack prize in the account are notes on the "recreation of an Egyptian Navy". But the inclusion appears oddly irrelevant to an "air power" study.
The lavishly illustrated effort sports dozens of rare photos. Maps put commentary into geographic perspective. And 21 color profiles survey the region's period civilian and military aircraft schemes.
A robust selected bibliography and extended, explanatory captions also augment the account.
Once more, however, the lack of annotations proved troubling. And only from occasional in-text comments can readers glean sources for any quotes or contentions.
Some claims also beggar belief.
Do authors literally mean, for instance, that "the Arab Aeronautical Society … had raised over 13,000 lbs in gold bullion" on page 15? At US$35/oz., that would roughly equal US$7,280,000 in 1937 – a considerable sum for military equipment at the time.
Puzzling details in several photos also beg expanded caption commentary.
For instance, that Egyptian Avro 626 on page 5 clearly wears camouflage – a common local practice during coming conflicts. So is the photo's alleged 1936 date accurate?
That Iraqi Breda Ba 65 on page 30 also shows the aircraft serial "117" under the starboard wing. Were all Iraqi Ba 65s so marked? And did such codes appear beneath both wings?
Color profiles depict both Arab and European subjects, military and civilian. Unfortunately, despite the overarching "air power" series title, the mix features just four Arab military aircraft – two Iraqi and two Egyptian. And Iraqi S.79Bs probably wore pale "cachi avorio chiaro" ("light ivory khaki") applied to other Savoia-Marchetti machines – not the distinctly ochre shade Peter Penev's profile wears.
Finally, watch for inconsistencies.
Is that Egyptian Avro 641 registered SU-ASS, as depicted – or SU-AAS, as described? And was REAF No.4 Squadron a "Bomber" or a "General Purpose" unit? Authors employ both designations on page 58.
Still, given the book's overall revelations, none of these concerns seriously diminishes this Air Power and the Arab World installment. And I eagerly await Volume 6.
Recommended!
My sincere thanks to Casemate for this review sample!