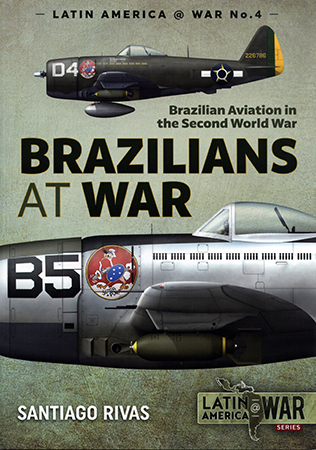 Brazilians at War Book Review
| | | | |
| --- | --- | --- | --- |
| Date of Review | March 2018 | Title | Brazilians at War |
| Author | Santiago Rivas | Publisher | Helion |
| Published | 2018 | ISBN | 9781911512585 |
| Format | 88 pages, softbound | MSRP (USD) | $39.95 |
Review
World War II witnessed combatants from all continents except Antarctica.
Now Santiago Rivas surveys the saga of South America's principal participants in Brazilians at War: Brazilian Aviation in the Second World War – fourth in Helion's superb "Latin America @ War" series.
Coverage divides into three parts:
Prewar Brazilian military aviation
WWII operations by Brazilian and US forces in Brazil
Brazilian fighter and observation actions in Italy
Contents course chronologically through the whole terrific tale. And plenty of absorbing action accounts pepper the plot.
It's lavishly illustrated, too.
Dozens of B&W photos depict Brazilian combat aircraft – including rarities like camouflaged Boeing 267 biplane fighters, sleek Vultee V-11 attack aircraft, and surprising Savoia-Marchetti S.79 transport-bombers.
A handful of period color shots – mostly Força Aérea Brasileira P-47Ds in Italy – also supplement these. And eleven excellent color profiles and two unit badges by Tom Cooper sample the swath of Brazilian warplane warpaint.
How about that comely A-20K camouflage?
Two maps, six appendices, and a selected bibliography neatly wrap things up.
But US Army terms like "2nd Sergeant" and "3rd Sergeant" sound strange. More likely, they're USAAF technician-grade ranks – "Technical Sergeant" and "Staff Sergeant", respectively. Moreover, 1st ELO L-4Hs doubtlessly flew from fields with Marston Mat or pierced steel planking (PSP) – not from strips with "aluminium [aluminum] plates".
But I quibble.
Get this superb little study. Then hope Helion supplements it with a sequel on the rest of the story – WWII Brazilian land forces in Italy, and Brazilian Navy units in the Battle of the Atlantic.
Robustly recommended!
My sincere thanks to Casemate Publishing for this review sample!