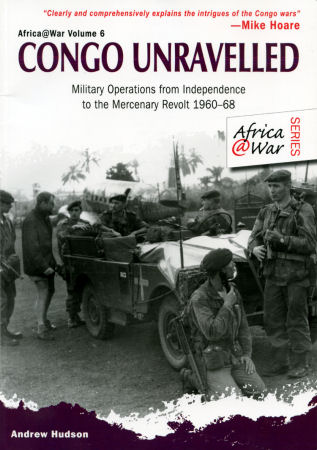 Congo Unravelled: Military Operations from Independence to the Mercenary Revolt 1960–68 Book Review
| | | | |
| --- | --- | --- | --- |
| Date of Review | September 2013 | Title | Congo Unravelled: Military Operations from Independence to the Mercenary Revolt 1960–68 |
| Author | Andrew Hudson | Publisher | Helion |
| Published | 2013 | ISBN | 9781907677632 |
| Format | 72 pages, softbound | MSRP (USD) | $29.95 |
Review
Cold War history remains rife with proxy wars between East and West.  And 50 years ago, the Congo – then Africa's second largest country – captured world headlines, dominated international debate and spurred events that tragically resonate today.
Now it's the subject of a capably concise chronicle, Congo Unravelled – part of Helion's superb "Africa@War" series.
The subtitles tells it all.  Author Andrew Hudson beautifully recaps "Military Operations from Independence to the Mercenary Revolt 1960–68".
The complexities of African military history truly defy simplistic analyses.  And Hudson's coverage logically begins with three chapters recapping the intricate interplay of key Congolese influences.  These variously involved resources, colonialism, nationalism, Pan-Africanism, US-Soviet interests, competing independence movements and neighboring African states.
Add Belgium's arguable failure to promote native talent, economy and cohesion – and all contributed to a concoction for catastrophe.  That's why I valued Hudson's notes on ethnic divisions – comments critical to properly perceiving the almost endless Congolese conflicts.  His précis on Force Publique development, design and deployment also proved especially insightful.  Want the war's whys and wherefores?  Don't skip any introductory parts.
Contents then segue to post-independence military matters.  And that's where the book's pace really quickens.
Within weeks of the 30 June 1960 independence, the Force Publique – rechristened Armée Nationale Congolaise (ANC) – dissolved in anarchy.  Thousands of European and non-Congolese Africans – including critical technicians – fled the chaos.  Belgium intervened militarily.  And the nascent central government lost control of vast, resource-rich territories.
The United Nations committed troops.  And very soon thereafter, the first "European" mercenaries entered action.  The Congo conflict's emblematic actor had finally arrived.
Hudson subsequently spends the bulk of remaining coverage to recapping their actions.  And familiar names surface: Mobutu and Mulele, Schramme and Tshombe, Hoare and Hammarskjöld, CIA and Simbas.
In the end, the Congo conflict claimed thousands of lives – including UN Secretary-General Dag Hammarskjöld.  Yet the country's misery still thrives.
Helion's absorbing account sports charts, index, helpful glossary and chapter sources list.  Photos and maps appear in both B&W and color.
A few nitpicks cloud this otherwise excellent effort.  I think Katanga operated more than one Fouga CM.170 Magister.  Those look like FN FAL battle rifles on page 11.  I wish Helion included profiles of participating air assets for warplane enthusiasts like me.  And I'd love to see a shot of that Boeing RC-97 "Running Bear" aircraft during Operation Dragon Rouge!
But I quibble.  Warfare in Africa – especially in and among sub-Saharan states – historically receives short shrift.  Or it's viewed through petty prisms of race, ideology and politics.
Not here.  Helion's splendid "Africa@War" series superbly summarizes men, movements and militaries in admirably balanced, handy histories.
Exhibit A: Congo Unravelled.  More than a half century after independence, the nation remains a political, economic and social wreck – with no end in sight.  Hudson's compact installment wonderfully distills the seeds of today's tragically endless morass.  For a helpful handbook on this Cold War hot spot, grab Helion's enlightening effort.
Robustly recommended!
My sincere thanks to Casemate Publishing for this review sample!