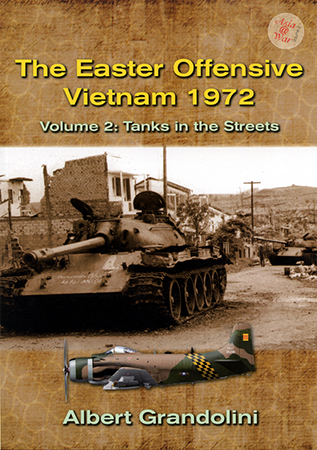 The Easter Offensive, Vietnam 1972. Volume 2 Book Review
| | | | |
| --- | --- | --- | --- |
| Date of Review | June 2017 | Title | The Easter Offensive, Vietnam 1972. Volume 2 |
| Author | Albert Grandolini | Publisher | Helion |
| Published | 2016 | ISBN | 9781910294086 |
| Format | 56 pages, softbound | MSRP (USD) | $29.95 |
Review
Albert Grandolini concludes his splendid study of The Easter Offensive Vietnam 1972 with Volume 2: "Tanks in the Streets".
Volume 2 focused on the massive PAVN [People's Army of Vietnam] infantry and armored invasion across the DMZ – and subsequent actions in northern South Vietnam.
Second installment in Helion's excellent "Asia@War" series, volume 2 recaps concurrent combat at An Loc and along Route 13 in Saigon's vicinity, and in the Central Highlands. It's available in North America from Casemate.
Grandolini charts the fighting in 56 pages and eight chapters:
Background
Hanoi's strategic surprise
The opening salvos
The siege of An Loc
Ordeal on Route 13
The battle for the Central Highlands
The siege of Kontum
Aftermath
Allied airpower approved critical. US president Richard M Nixon ordered massive airstrikes on North Vietnam. Many targeting restrictions were removed. Hanoi and Haiphong harbors were mined. And in the south, day and night American and VNAF [(South) Vietnam Air Force] attacks decidedly disrupted PAVN operations.
Like Grandolini's first part, it's packed with absorbing anecdotes and fascinating facts.
Communist forces included, for instance, six M24 Chafee and one AMX-13 tanks in their thrust from Cambodia toward Saigon. At An Loc, teenage Regional Forces troopers with M72 LAWs destroyed a PAVN T-54 – and rallied local ARVN [Army of the Republic of Vietnam] defenders to more "tank-hunting". The timely use of CBU-55 fuel-air-explosive bombs along Route 13 doubtlessly proved pivotal to relieving An Loc. And how about that intriguing and controversial American advisor, John Paul Vann?
Like volume 1, dozens of illustrations augment this admirable account – including at least 130 photos and six maps. Eighteen superb color profiles by Tom Cooper – 12 aircraft and six armored vehicles – provide potent model project inspiration. And Grandolini's selected bibliography – full of superb sources for further study – neatly wraps things up.
Ah, 1972's Easter Offensive. Those knowing Vietnam War history might contemplate contrasts between 1972 and 1975. Albert Grandolini's vital volumes offer ample opportunities for such reflection. And his "Aftermath" – partially, at least – addresses these.
Get both books. Then lobby Helion and Grandolini for similar studies of 1975's collapse of Saigon.
Robustly recommended.
My sincere thanks to Casemate Publishing for this review sample!