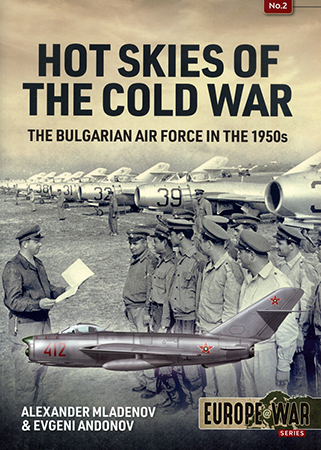 Hot Skies of the Cold War: The Bulgarian Air Force in the 1950s Book Review
| | | | |
| --- | --- | --- | --- |
| Date of Review | October 2020 | Title | Hot Skies of the Cold War: The Bulgarian Air Force in the 1950s |
| Author | Bojan Dimitrijevic | Publisher | Helion |
| Published | 2020 | ISBN | 9781912866915 |
| Format | 96 pages, softbound | MSRP (USD) | $24.95 |
Review
WWII's end saw Continental Europe divided into "spheres of influence" between victorious Western Allies and their erstwhile Soviet partner.
And on Iron Curtain's southwest fringe sat Bulgaria – arguably the most loyal of Moscow's nascent client states.
Now Alexander Mladeno and Evgeni Andonov explore "The Bulgarian Air Force in the 1950s" in the second "Europe@War" installment from Helion.
Available in North America from Casemate, Hot Skies of the Cold War chronologically charts Bulgaria's journey from Axis accomplice to Soviet satellite – and from "prop" to "jet" eras.
Nine chapters over 96 picture-packed pages tell the tale:
Post-War Air Arm Reorganizations
New-Style Air Arm in Construction and Expansion
Entering into the Jet Era
VVS Enters the MiG-15 Era
Bulgarian Air Defenses' Deepening Woes
Flight LY402 [D]own
MiG-17 Era Begins
Leitenant Solakov's Strange Escape to Italy
VVS in the Supersonic Era
Helion's case study expertly illumines evolving defense relationships between the Soviet Union and its buffer states through the prism of Bulgaria's experience.
Equipment. Air defense. Command structures. Operations. Training. And more.
Relentless "Sovietization" fueled fundamental changes to organization, recruitment, retention, and readiness – with occasional adverse outcomes.
With politically motivated dismissals of WWII veterans, for instance, numerical strength plunged to 47% of "required peacetime level[s]".
"Sovietization" even affected markings. National markings went from the highly distinctive "Fatherland Front" insigne to a Soviet-style red star with inset Bulgarian roundel.
Lots of details dominate text. Authors consume 25 pages – a quarter of coverage – to, for instance, the tragic destruction of El Al flight LY402 by Bulgarian jets in July 1955.
Fascinating facts also abound. What role did precious metal play in the Israeli airliner's downing? And did you know that Arado Ar 196A-3 floatplanes remained in Bulgarian service until April 1954?
Modelers will love it, too. Well over 100 illustrations – color photos, B&W shots, and profiles – provide plenty of project possibilities. How about that stunning scheme on Page ii's Yak-9M color plate?
An abbreviations list, extended captions, summary tables, and selected bibliography also augment the account.
But the lack of annotations proved disappointing. And do authors really mean gun camera "tapes" in coverage of doomed El Al flight LY402?
Still, ignore the occasional typos and awkward English diction: I enjoyed this enlightening effort. And I hope Helion considers more case studies of Warsaw Pact militaries in the Cold War's early days.
Recommended!
With thanks to Casemate Publishing for the review copy!