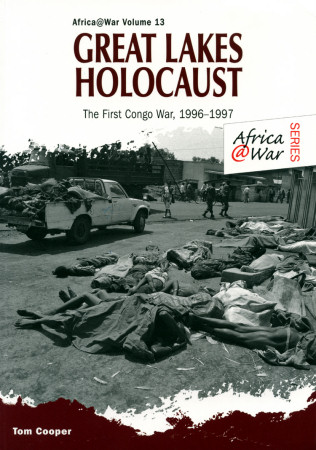 Great Lakes Holocaust: The First Congo War, 1996–1997 Book Review
| | | | |
| --- | --- | --- | --- |
| Date of Review | December 2013 | Title | Great Lakes Holocaust: The First Congo War, 1996–1997 |
| Author | Tom Cooper | Publisher | Helion |
| Published | 2013 | ISBN | 9781909384651 |
| Format | 64 pages, softbound | MSRP (USD) | $29.95 |
Review
Rwandan genocide seared the world's conscience in 1994.  Subsequent strife spilled into Zaïre, now the Democratic Republic of Congo – and reaped far less attention.  But the toll proved equally tragic – and resonates today.
That's the topic of Great Lakes Holocaust: The First Congo War, 1996–1997 – 13th in Helion's superb "Africa@War" series.
The remarkable, redoubtable Tom Cooper begins his absorbing account with a primer on key conflict considerations: geography, natural resources, ethnic issues and political tensions – among others.
Contents then seamlessly segue to military matters.  That's where you'll find two summary sections on opposing forces and plans – Zaïroise, Rwandan, Ugandan, insurgent and refugee – including land, air and, surprisingly, naval assets.  Principal personalities also appear.
That sets the stage for Cooper's chronicle of the fighting itself.  How tiny Rwanda and its allies defeated Zaïre – a nation the size of Western Europe – remains among the most remarkable military achievements of recent times.  And as Cooper notes, success stemmed from the "brilliant tactics and thinking" of "key Rwandan officers" – a performance in chiascuro contrast to the chaotic confusion and incompetency of their larger foe.
Rwanda apparently aimed only to establish a buffer zone in the Kivus.  But the unexpectedly sudden success of their rezzou tactics spawned almost unstoppable momentum.  Uganda and, later, Angola opportunistically entered the war.  A last-minute influx of mercenaries failed to save the dying Mobutu.  And Zaïroise resistance collapsed.  The "mighty FAZ," Cooper caustically concludes, "proved spectacularly ineffective".
Photos, maps, tables and annotations augment text.  Cooper's splendid color plates of participating aircraft and vehicles provide plenty of model project inspiration.  And a handy "conclusion", acronym glossary and selected bibliography complete contents.
Careful readers will note some nits and typos.  That's "Anstalt WIGMO" – not "Wingmo".  And "DSP" – not "DPS".  That's a DC-6 – not a DC-8 – on page 21.  Those were Chinese Type 62s – not T-62s – in Zaïre's last armor action.  And Filip Reyntjen's The Great African War appears in a footnote – but not in the book's bibliography.
But pardon my pettifogging.  We who studied the campaign sometimes called it "Operation Gideon": Rwanda accomplished so much, so fast, with so little – right amidst the enemy.
For an adept, balanced briefing on the "First Congo War", get this terrific tome.  Cooper masterfully distills the conflict's complexities.  I loved it.
Roundly recommended!
My sincere thanks to Casemate Publishing for this review sample!