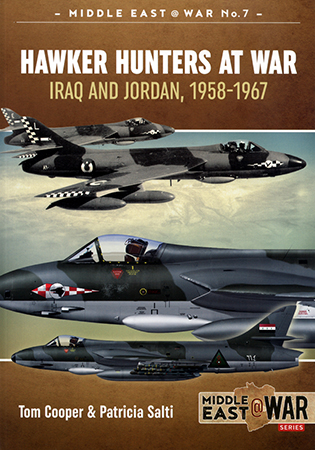 Hawker Hunters At War: Iraq And Jordan, 1958-1967 Book Review
| | | | |
| --- | --- | --- | --- |
| Date of Review | May 2017 | Title | Hawker Hunters At War: Iraq And Jordan, 1958-1967 |
| Author | Tom Cooper, Patricia Salti | Publisher | Helion |
| Published | 2017 | ISBN | 9781911096252 |
| Format | 64 pages, hardbound | MSRP (USD) | $29.95 |
Review
Veteran of conflict across the globe, Hawker's legendary Hunter first saw action in the Middle East.
Now Tom Cooper and Patricia Salti tell the tale in Hawker Hunters At War – seventh in Helion & Company's superb "Middle East @ War" series.
Subtitled "Iraq And Jordan, 1958-1967", the admirably annotated, succinct study spans seven chapters and 64 pithy pages:
Special relationship
Crisis of 1958
New Start In Iraq
First Battles With Mirages
June 1967 War
Battle For H-3
Post-Scriptum
It's full of fascinating facts. I didn't know, for instance, that Jordan's Prince Hussein bin Talal ("Prince Hussein II") – future King and impetus behind the nation's nascent air force – once expressed interest "in obtaining a squadron of legendary Supermarine Spitfires". And I didn't know that Iraqi No 6 Sqn Hunters became "the first ever to fire their weapons in anger" during the July 1958 revolution that toppled Iraq's monarchy.
Coverage includes dozens of unique photos/images – and not just of Hawker Hunters. How about those rare, clear shots of a belly-landed UARAF (Syrian) MiG-17F in Jordan? And how about those Iraqi MiG-19s?
Hobbyists will love co-author Cooper's always-excellent artwork. Those eye-arresting Jordanian and Iraqi Hunters with red IFF panels will certainly make colorful models.
Exciting action accounts also pepper pages. And coverage hits crescendo with clashes over Iraq's H-3 airbase during the June 1967 war.
But therein lies the book's chief weakness. Those familiar with military After Action Reports (AARs) – let alone personal anecdotes – know how inaccurate human recollection can be.
Still, whether readers agree or disagree with Harpia's conclusions, Cooper and Salti confidently challenge common assumptions with laudable logic – and serious sleuthing. And until scholars enjoy unfettered access to official archives of all belligerents, Harpia's methodology remains our best available option.
Hawker Hunters also served with the Lebanese, Saudi, Kuwaiti and Omani air forces – as well as with Britain's Royal Air Force during the 1956 Suez War and the mid-1960s Aden conflict. Let's hope that Cooper and Salti pen a sequel on those Hunter operations, as well.
Rabidly recommended!
With thanks to Casemate Publishing for the review copy!