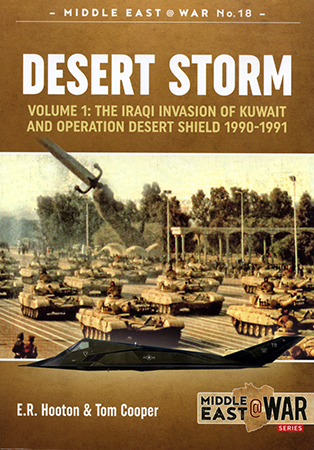 Desert Storm. Volume 1 Book Review
| | | | |
| --- | --- | --- | --- |
| Date of Review | August 2019 | Title | Desert Storm. Volume 1 |
| Author | E.R. Hooton, Tom Cooper | Publisher | Helion |
| Published | 2019 | ISBN | 978-1911628224 |
| Format | 112 pages, softbound | MSRP (GBP) | £16.95 |
Review
"The purpose of this book is not only to present the 'other' – Iraqi – perspective of related affairs, but also to put numerous important background items within their context."
That's how authors E.R. Hooton and Tom Cooper begin Desert Storm, Volume 1: The Iraqi Invasion of Kuwait & Operation Desert Shield 1990-1991 – 18th in Helion's excellent "Middle East@War" range.
And they dutifully kick-start contents with five chapters of background commentary – history, economics, military, and even civics notes.
Border disputes. Iran-Iraq fighting. War debts. Slant drilling. Saddam Hussein's ego. April Glaspie. Militaries. Strategy. Logistics. And more.
Don't skip preparatory notes: A multi-dimensional host of factors contributed to Iraq's rather precipitous 1990 decision to invade and occupy Kuwait – and to the Coalition's subsequent stunning success.
Combat finally commences in Chapter 6. Kuwait speedily succumbed to Iraq's overwhelming, 2 August 1990 onslaught. And Hooton and Cooper competently chronicle – almost hour-by-hour, unit-by-unit – Saddam's swift seizure.
"Iraq will not be permitted to annex Kuwait," US President George H. W. Bush vowed to a Joint Session of Congress, 11 September 1990. And a final chapter recaps the massive build-up of Coalition forces to eject Iraqi forces from the emirate: Operation Desert Shield.
Helion's copiously illustrated effort sports dozens of color and B&W photos. And 19 superb color profiles with insets – 13 military vehicles by David Bocquelet and six aircraft by Tom Cooper – will certainly stimulate your modeling muse.
Maps also put comments into geographic perspective. Extended, informative captions and combat commentary augment the account. References include primary, secondary, and anecdotal sources. And tables, abbreviations, and endnotes complete coverage.
But the USAF could not "call upon more than a million personnel" in 1990. And as instruments of political leverage, wheat sales assumed greater significance with the USSR's collapse in late 1991 – months after Desert Storm.
Additionally, some annotation references do not appear in the book's selected bibliography. Phraseology occasionally includes oddities like "induction" for "inauguration". And I'd hardly rank Kenneth Pollack's acclaimed Arabs at War among "the flawed and patronizing analyses of the Iraqi military at war with Iran".
Immediate antecedent to events of this book was the 1980-1988 Iran-Iraq War. And "Middle East@War 18" perfectly complements Helion's illuminating four-part study of that conflict.
Get all for even deeper crisis insight. Then fight for a place in line behind me for Desert Storm, Volume 2!
My sincere thanks to Helion for this review sample!