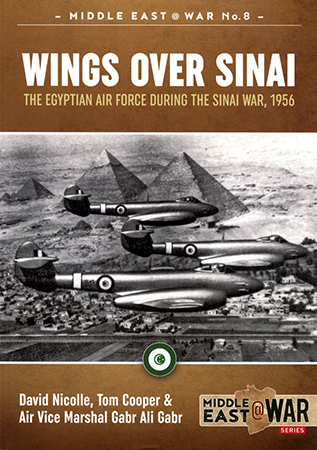 Wings Over Sinai Book Review
| | | | |
| --- | --- | --- | --- |
| Date of Review | October 2017 | Title | Wings Over Sinai |
| Author | David Nicolle, Gabr Ali Gabr, Tom Cooper | Publisher | Helion |
| Published | 2017 | ISBN | 9781911096610 |
| Format | 72 pages, softbound | MSRP (USD) | $34.95 |
Review
Helion expertly examines the 1956 Suez Crisis through Egyptian eyes in Wings Over Sinai – eighth in the publisher's superb "Middle East@War" range.
Subtitled "The Egyptian Air Force During The Sinai War, 1956" and available in North America from Casemate, coverage follows Helion's proven "@War" prescription.
Contents commence with remarks on the geopolitical background, regional arms race and Egyptian Air Force status, 1954-1955. Don't skip these parts. And don't ignore annotations: they pack plenty of illuminating details.
The conflict's putative catalysts come next: chiefly Egypt's Czechoslovak arms deals and its seizure of the Suez Canal. Authors then ably outline the war itself: Israel's Sinai invasion, and the Anglo-French intervention.
Color and B&W photos illustrate Helion's account. And superb color profiles nicely sample participating Egyptian warplane livery. A lone Syrian Meteor F.Mk.8 – the significance of which authors explain in text – also seasons the selection.
Abbreviations, extended captions, tables, a map, selected bibliography, and chapter endnotes further augment the effort. And a fascinating sidebar recaps Egypt's amazingly realistic, wooden MiG-15 and Vampire decoys.
Nitpicks?
I don't understand the lower photo on page 36. The source of Moshe Dayan's page 41 quote puzzles me. Secondary sources, some of questionable reliability, dominate Helion's references list. And profile captions should include translations of numerals for those unfamiliar with Arabic.
Authors also test reader credulity by claiming, among other things, that Egypt established a Palestinian "Fedayeen" unit "only to help them carry out reconnaissance missions into Israel". That simply beggars belief.
Finally, despite otherwise thorough background remarks, authors distill the Royal Egyptian Air Force's major combat debut to one brief phrase: "distinguished itself during the Palestine War".
Let's hope the authors offer a similarly enlightening account of REAF actions – and those of other Arab nations – against Israel, 1947-1949.
Please, Helion!
Students of Middle East conflict will welcome this fresh, competent perspective on the 1956 Suez War. I found Helion's vital volume pungently provocative – and intensely illuminating.
Robustly recommended!
My sincere thanks to Casemate Publishing for this review sample!