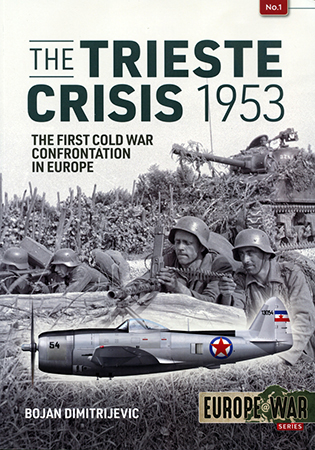 The Trieste Crisis 1953 Book Review
| | | | |
| --- | --- | --- | --- |
| Date of Review | August 2019 | Title | The Trieste Crisis 1953 |
| Author | Bojan Dimitrijevic | Publisher | Helion |
| Published | 2019 | ISBN | 9781912866342 |
| Format | 80 pages, softbound | MSRP (GBP) | £16.95 |
Review
East and West square-off in The Trieste Crisis 1953 – first in Helion's new "Europe@War" series.
Billed as "The First Cold War Confrontation in Europe", the 80-page study chronicles the crisis in five, picture-packed chapters:
The Cold War Starts at Trieste
Establishing the Free Territory of Trieste 1947
Trieste Crisis 1953
Eighth of October 1953
Towards the Compromise
The conflict – "which saw the largest related development of the military forces of Italy and Yugoslavia" – culminated in late 1953.
Tapping archival sources, Serbian historian Bojan Dimitrijevic recaps crisis events – albeit with clear Yugoslav emphasis.
In WWII's closing days, friction between Trieste's liberating Allied and Partisan forces – and frictions between the region's urban Italians and rural Slavs – quickly kindled.
Subsequent developments, including establishing the Free Territory of Trieste, "a kind of provisorium", failed to diffuse Yugoslav territorial ambitions – and international tensions. And conflict reached climax in October 1953, resulting in the largest deployment of military forces by Italy and Yugoslavia since WWII.
Dozens of rare, previously unpublished photos season the study. Twenty-one color plates – eight military vehicles by David Bocquelet, four uniforms by Anderson Subtil, and nine aircraft by Tom Cooper – provide plenty of period project prospects.
Maps, captions, and tables also augment the account. And annotations, abbreviations, and references complete coverage.
But watch for typos. The anachronism "Main Battle Tank" does not apply to WWII-era Soviet T-34s. More on Italian forces would provide better belligerents balance. That's Reuters news agency – not "Routers". And Communist Yugoslavia never became a "US and NATO Ally".
Finally, after Yugoslavia's 1948 rift with Moscow, author Dimitrijevic admits that Allied powers "could no longer define the Trieste problem even indirectly in terms of a Soviet-inspired threat" – and considered it a "local" Italo-Yugoslav dispute.
So was Trieste really Europe's first "Cold War Confrontation"? Many historians assign that distinction to the 1946–1949 Greek Civil War. And I personally agree.
But don't let "first confrontation" pedantry deter you from savoring this informative, illuminating, and intriguing effort. I thoroughly enjoyed it.
In the end, Italy and Yugoslavia avoided fighting. But consider this: war over Trieste might have produced the first – and only – clashes between two WWII classics, Curtiss SB2C Helldivers and Ilyushin Il-2 Shturmoviks!

My sincere thanks to Helion for this review sample!