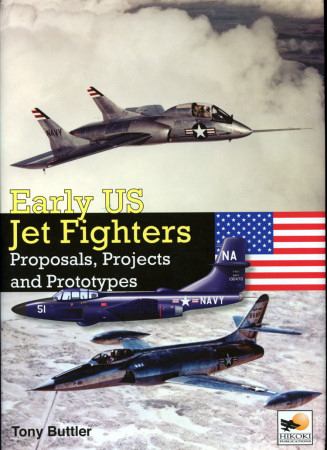 Early US Jet Fighters: Proposals, Projects and Prototypes Book Review
| | | | |
| --- | --- | --- | --- |
| Date of Review | November 2012 | Title | Early US Jet Fighters: Proposals, Projects and Prototypes: The Argentine Air War over the Falklands |
| Author | Tony Buttler | Publisher | Hikoki Publications |
| Published | 2013 | ISBN | 9781902109305 |
| Format | 176 pages, hardcover | MSRP (USD) | $49.95 |
Review
The post-WWII years remain crucial to aerospace history.  Propulsion and design developments promised amazing progress in aircraft performance.  And in the US, weird, wonderful wings emerged.
That's the subject of Tony Buttler's Early US Jet Fighters from Hikoki – available in North America from Specialty Press.  And what a cool, convenient compendium it is.
Subtitled "Proposals, Projects and Prototypes", contents recap the whole terrific tale:
Air Force Beginnings
Navy Beginnings
Army Air Force All Weather Fighter
Army Air Force Penetration Fighter
Army Air Force Interceptor
Navy Night Fighter
Navy Day Fighter
Navy Long Range Escort Fighter
Navy Interceptor
Miscellaneous Projects and Flying Boat Fighters
First Air Force Supersonic
First Navy Supersonic
How about extrapolating a Curtiss XP-55 to jet power?  Curtiss' P-304 series resembles a page from pulp fiction.  Or a jet-engine F7F Tigercat?  Grumman's Design 67 studied the possibility.  Or a jet ground-attack derivative the P-47 Thunderbolt?  Republic's "AP-47" shows what might have been.
Other terrific treasures unearthed in Early US Jet Fighters embrace the familiar and exotic.  Like the XP-88/XF-88 Voodoo, "Soviet-looking" Goodyear GA-16 penetration fighter, Douglas Skystreak interceptor iteration and bizarre North American RD-1386 design study – the last bearing a distinct Luftwaffe '46 look.  Even float-maker Edo entered the fray!
And on and on.  Color profiles and over 350 photos spice this savory stew.  Five appendices, selected bibliography and source details, and index complete coverage.
What a wild ride!  Jets.  Turboprops.  Rockets.  Mixed power.  Wings straight and swept.  Shapes conformist and eccentric.  And the stuff that dreams are made of.
Tony Buttler has forged a deservedly brilliant reputation for gems like this.  Treat yourself to loads of fascinating fun – and get his Early US Jet Fighters.
Robustly recommended.
My sincere thanks to Specialty Press for this review sample!