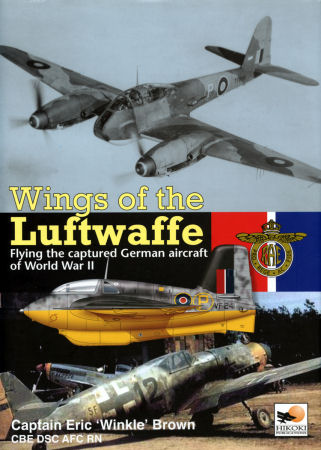 Wings of the Luftwaffe: Flying the captured German aircraft of World War II Book Review
| | | | |
| --- | --- | --- | --- |
| Date of Review | September 2013 | Title | Wings of the Luftwaffe: Flying the captured German aircraft of World War II |
| Author | Eric "Winkle" Brown | Publisher | Hikoki Publications |
| Published | 2011 | ISBN | 9781902109152 |
| Format | 272 pages, hardcover | MSRP (USD) | $56.95 |
Review
How many Allied airmen flew the Blohm und Voss BV 141, Dornier Do 335 and Heinkel He 162?
Legendary British test pilot Eric "Winkle" Brown did.  And he candidly assesses dozens of German aircraft in his fascinating memoir from Hikoki, Wings of the Luftwaffe.
Subtitled "Flying the captured German aircraft of World War II" – and available in North America from Specialty Press – Brown's captivating compendium courses alphabetically through 33 of the 55 Luftwaffe types the author tested.
At war's end, Brown's experience left him uniquely qualified for the task at hand.  The German-speaking former Fleet Air Arm fighter pilot forged a reputation as a respected test pilot at the Royal Aircraft Establishment, Farnborough.  By VE Day, he had already flown a number of captured Axis aircraft.
That curriculum vitae took him in search of surviving Luftwaffe warplanes amidst the rubble and ruins of Hitler's Reich.  And those wartime and postwar adventures intimately acquaint readers with wings both familiar and exotic.
From the "magnificent" Arado Ar 234B and "dangerous" Ar 240 via the "remarkable" Fieseler Fi 156 Storch and "superb" Fw 190A through the "potent He 219A and "deadly" Ju 87D to the "breathtaking" Me 163B and "functional" Siebel Si 204D, Brown's terrific tome brilliantly captures the sweep of Nazi airpower.
The Focke-Wulf Fw 200C Condor, in particular, stands out.  And the "Scourge of the Atlantic" periodically punctuates the author's brilliant career.  In 1937, Ernst Udet personally and "proudly" showed him the first prototype.  Four years later, Brown, a Grumman Martlet pilot on the escort carrier HMS Audacity, destroyed two Condors in combat over the North Atlantic.  And in July 1945, he finally flew an example – "the former personal transport of the notorious SS leader Heinrich Himmler and later kept for the private use of Grand-Admiral Karl Doenitz"!
Even more surprises abound.  A very rare Arado Ar 232B transport, for instance, provided acute aid in the RAF's evaluation of Heinkel's "innovative" He 162A-2 Volksjäger.  Brown also recalls the little jet's "excellent directional snaking characteristics, making it a good gun platform."  "From this aspect," he intriguingly adds, "it was the best jet fighter of its time, and I was certainly in a position to judge, having flown every jet aircraft then in existence."
Wow.  Who else – honestly – could make such a claim?
More than 200 photographs, color profiles and sectional drawings season this superb story.
Hundreds of airpower histories analyze actions of aircraft, crew and units.  Relatively few recount the flying characteristics of more than just a handful of machines.
Not Brown's book.  How scores of Luftwaffe aircraft flew and performed remains its raison d'être.  The author's breadth and depth of hands-on experience – and his unique insights into Nazi warplanes – make this unrivaled account amazingly authoritative, informative and entertaining.
So buckle-up for lots of riveting rides in Wings of the Luftwaffe.  Eric Brown's engaging effort deserves pride of place in the libraries of all serious WWII aircraft enthusiasts.
Rabidly, robustly and roundly recommended!
My sincere thanks to Specialty Press for this review sample!