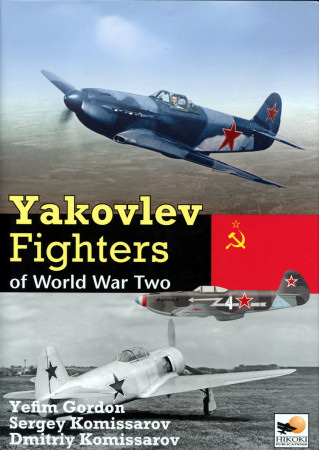 Yakovlev Fighters of World War Two Book Review
| | | | |
| --- | --- | --- | --- |
| Date of Review | May 2015 | Title | Yakovlev Fighters of World War Two |
| Author | Yefim Gordon, Sergey Komissarov and Dmitriy Komissarov | Publisher | Hikoki Publications |
| Published | 2015 | ISBN | 9781902109466 |
| Format | 336 pages, hardcover | MSRP (USD) | $56.95 |
Review
Let's cut to the chase: if you buy one book on Yakovlev's legendary piston-engine fighters, get this superb study.
Period.
By the matchless team of Yefim Gordon, Sergey Komissarov and Dmitriy Komissarov, Yakovlev Fighters of World War Two – available in North America from Specialty Press – tells the terrific tale with meticulous accuracy and authority.
Hikoki's sumptuous stew spans nine chunky chapters and 336 pages. And the lavishly illustrated effort comes packed in a truly lip-smacking marinade of minutiae.
Contents course chronologically. Coverage begins with design and development of the I-26 – sire of the whole famous family. A history of the first operational iterations follows – both "razorback" Yak-1 sans suffixe and bubble-canopy Yak-1b versions. Those forged fame as the best Soviet fighters at the start of the "Great Patriotic War" – and, surprisingly, remained in production through mid-1944.
Especially informative was the Yak-7's remarkable metamorphosis from trainer to fighter – a truly outstanding design in both roles. The airframe's versatility led to even more variants – including derivatives dedicated to reconnaissance, close-support and liaison.
Yak-7 coverage sets the stage for the Yak-9 – one of history's greatest warplanes. So crucial were they to Soviet war efforts that by mid-1944, "the aggregate number of Yak-9s sans suffixe, Yak-9Ts and Yak-9Ds surpassed the number of fighters of other types in the inventory of front-line units."
Numbers really do tell the tale. "In all, no fewer than 16,769 Yak-9s were built, including 14,579 manufactured before the end of the war." And the "basic type," authors add with palpable pride, "had 22 (!) main variants including 15 production versions."
The volume's variant chronicle culminates with the sleek, superlative Yak-3. The "last and arguably the most outstanding representative of Yakovlev's Second World War period fighter family", authors note, it incorporated the best features of previous Yak designs.
Coverage then segues to a terrific, year-by-year recap of Yakovlev fighters "in combat" during WWII. An illuminating "in foreign service" section follows. And two compact chapters on museum survivors and "new-build replicas" neatly conclude contents.
Hikoki's hefty hardback sports plenty of fascinating facts – and striking surprises. Yak-3s, for instance, initially required more than twice the manufacturing man-hours as Yak-1s did. A major reason? The "extreme care" the former's surface finish required! In fact, excellent Yak-3 aerodynamics forced Soviet pilots to "'hold the fighter back'" to avoid exceeding its air speed limit.
Yakovlev also reused designations – sometimes sowing confusion for researchers. Two different designs bore the name "Yak-3" – two I-30 iterations and the lightweight, late-war legend. And a "Yak-9K" – either the production variant or a derivative signifying "korabel'nyy" ("shipboard") – was selected as a fighter for the first Soviet aircraft carrier project, the aborted Type 72 vessel.
Handy tables deftly delineate variants. Hundreds of photos visually distill design changes. Dozens of profiles colorfully chart camouflage and markings. Close-up views disclose details – inside and out. And, by the way, many scale drawings – including multi-views – come from official Soviet and Yakovlev archives.
Nitpicks? Some. This book needs an acronym and abbreviation glossary. Colloquialisms like "lemon" belong to casual journalism – not to distinguished histories. The "prototype and experimental" Yak-3 specifications table lacks English speed entries. And what's a "fuselage waterline"?
Absolutely none of these detracts from Hikoki's terrific tome. I loved this brilliant book. If it wore a skirt – and if I weren't already married – I proposed to it!
Rabidly recommended!
My sincere thanks to Specialty Press for this review sample!