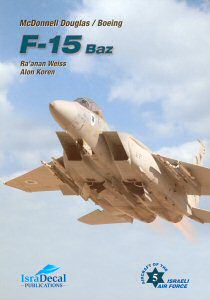 F-15 Baz Book Review
| | | | |
| --- | --- | --- | --- |
| Date of Review | August 2006 | Title | F-15 Baz |
| Author | Ra'anan Weiss, Alon Koren | Publisher | Isra Decals Publications |
| Published | 2006 | ISBN | 965-7220-06-8 |
| Format | 130 pages, hardbound | MSRP (USD) | $36.00 |
Review
The F-15 Eagle has been involved in several wars since it entered service in the early 1970s. Designed to be a pure dogfighter, the F-15 has an impressive kill-loss ratio. One reason for its huge success is its early combat debut over Israel. The Israeli Air Force has really rung out the aircraft since it went into service there. They were first to see combat with the aircraft, and they still have an unmatched kill ratio of 80:0 after their last skirmish with Syria, earning the Israeli Eagles with the distinction on being the "largest distributor of MiG parts in the world!"
This title is filled with mostly color photographs of the aircraft as it initially entered service into the Israeli Air Force through the very recent past. The title has some really impressive photography of the aircraft, including a detailed photo walk around that shows many of the modifications that the Eagle has received in Israeli service, a look at many of the squadron markings worn during its service, and a look at many of the MiG-killers.
The title is written in English and chronicles the history of the aircraft and its service to the defense of Israel.
One thing that really surprised me with this title, there is a table of MiG-kills from two of the squadrons that flew the Eagle that includes the aircraft type and ID number, date, type killed, weapon used, and the PILOT(s)!! I thought a very warm place would freeze before the Israeli Air Force would reveal the names of its pilots! The times are changing!
If you're a follower of the exploits and accomplishments of the Israeli Air Force, this is one title you won't want to miss. This title is highly recommended!
My sincere thanks to Isra Decal Publications for this review sample!