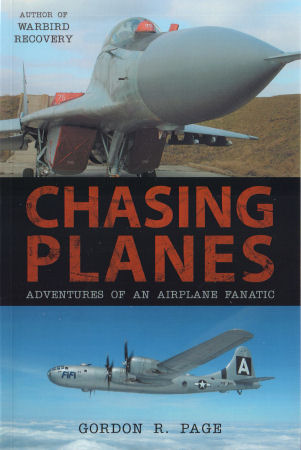 Chasing Planes Book Review
| | | | |
| --- | --- | --- | --- |
| Date of Review | February 2016 | Title | Chasing Planes |
| Author | Gordon R. Page | Publisher | iUniverse Inc |
| Published | 2015 | ISBN | 9781491781920 |
| Format | 178 pages, softbound | MSRP (USD) | $16.95 |
Review
How time flies. A decade ago, we had the opportunity to review the title ' Warbird Recovery' written by Gordon Page who shared his adventure into the former Soviet Union to recover a Bf 109F wreck from the 'Great Patriotic War'. Since that time, the author has opened and expanded the Spirit of Flight Museum in Colorado in addition to his regular aircraft broker and appraisal business.
In this latest title Chasing Planes: The Adventures of an Airplane Fanatic, the author has compiled an interesting collection of experiences both from his global aircraft business travels as well as from the pilot's seat. Once you start reading through this title, you are quickly caught up in the stories and forget time. Some of the stories read like those great life-lessons that used to appear in Flying Magazine called "I Learned About Flying From That".
During a trip to Israel, the author was treated to an aerial tour in a Robinson R44 flown by a former Israeli Cobra pilot and during the evening return to their airport, the aircraft was illuminated by a green laser. You've heard about similar incidents here where those lasers are being used to blind pilots? Not so in Israel - those lasers are attached to high-powered weapons which track the aircraft should the pilot have other intentions besides what was communicated to air traffic control.
Visiting the last flying Vulcan in the world, the author was called upon to perform an appraisal of the aircraft before it could be returned to flight for the next airshow season. Getting inside the cockpit and the history of the aircraft was a unique experience, especially since the Vulcan has subsequently ended its flying career permanently.
If you want to read some fun aviation adventures, this is definitely worth a read! You'll find out some interesting facts about many of the warbirds and organizations behind them as they work to keep aviation history alive.
My sincere thanks to Spirit of Flight Center for this review sample!