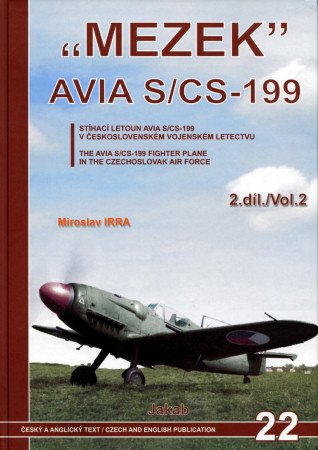 'Mezek' Avia S/CS-199, Vol. 2 Book Review
| | | | |
| --- | --- | --- | --- |
| Date of Review | December 2013 | Title | 'Mezek' Avia S/CS-199, Vol. 2 |
| Author | Miroslav Irra | Publisher | Jakab |
| Published | 2013 | ISBN | 9788087350096 |
| Format | 152 pages, hardbound | MSRP (USD) | $TBA |
Review
Jakab's intriguing account of Avia's mulish militant continues with "Mezek" Avia S/CS-199, Vol. 2.  And like the first installment, coverage includes Czech- and English-language text.
Subtitled "The Avia S/CS-199 Fighter Plane in the Czechoslovak Air Force", author Miroslav Irra initially recaps "Mule" armament, service, accident rates and – inevitably – fearsome reputation.
Of over 500 S/CS-199s manufactured, he notes, at least 124 were written off "in air accidents or subsequently scrapped".  That's around 25%.  Not nearly as lethal as the Avia's Argentine contemporary – the I.A.24 "Calquin".  But bad enough.
Coverage then turns meaty for modelers with camouflage & markings comments.  There you'll find authoritative details of aircraft colors, codes, national insignia and – surprisingly – personal art.  Pity that no one's unearthed shots of No 486's "Diana" nose emblem!
Subsequent sections survey Avia's engine, propeller, undercarriage, stabilizer and canopy modifications to Messerschmitt's original design.  Notes on photo reconnaissance and trainer adaptations follow.  The latter received the "CS-199" designation – and the nonstop thanks of Czechoslovak's then-fledgling flyers.
Irra also reveals the S-199's rather retrograde performance.  Military authorities, he claims, "specified" a 400-440 kph (248-273 mph) maximum speed.  But aircraft "with worn-out engines", Czechoslovak pilots recall, barely mustered 370-380 kph (230-236 mph) – comparable to prewar Avia B-534 biplane performance!
Contents include dozens of B&W and color photos, twelve profile and plan views, technical manual excerpts, drawings and detail shots.  An appendix lists all known unit codes by serial numbers.  And a concluding table summarizes total S/CS-199 production.  Finally, Jabab includes several pages of beautiful 1:48 plans – with detail insets to larger scales.  But who flipped those inside-cover images?
Jakob's two-volume set remains the best account of Avia S/CS-199s in Czechoslovak service.  If you're mulling "Mule" models, buy, beg or borrow this handy hardback.
Recommended!