Messerschmitt Me 262s of KG and KG(J) Units Book Review
| | | | |
| --- | --- | --- | --- |
| Date of Review | March 2011 | Title | Messerschmitt Me 262s of KG and KG(J) Units |
| Author | David E. Brown, Ales Janda, Tomas Poruba, Jan Vladar | Publisher | JaPo |
| Published | 2010 | ISBN | 978-80-86416-90-8 |
| Format | 180 pages, softbound | MSRP (BP) | £29.95 |
Review
Quite often you'll pick up an interesting title that covers a subject of interest but usually winds up being a re-hash of one or more historical works of other authors. While sometimes the story telling gets better, the historical fidelity gets somewhat diluted with each recycle. It is refreshing to see a title come along that is not only based upon real research, that research is based upon first-hand forensics. This new title from JaPo is one of these titles.
The focus of this title is upon the organization based in Czechoslovakia that undertook the task of retraining experienced bomber pilots into fighter pilots near the end of World War II. The year is 1945, the aircraft is the Me 262A Schwalbe, and the Luftwaffe was running out of experienced fighter pilots in the defense of Germany. The mission was to draw upon the pool of experienced bomber pilots and transition them into the Me 262 for fighter duty.
The training objective was only partially successful, with only KG(J) 54 reaching partial combat readiness and engaging in combat operations before war's end. A handful of others also entered the fight, but at a significant cost. While combat losses were high, losses to factors other than combat were much higher (accidents, mechanical failures, etc.). This title chronicles those last great efforts to support that last desperate defense of the fatherland. Coverage of this title includes:
Final phases of development, batch production, and assignment to units
IX. Fliegerkorps(J)
IX. Fliegerkorps(J) combat operations in Bohemia
Me 262 variant designations
Me 262 transfers between operational units
Camouflage of Me 262
Me 262's of KG and KG(J) units over Czech lands
KG 51 aircraft over Bohemia
I./KG(J) 54 aircraft over Bohemia
III./KG(J) 6 aircraft over Bohemia
Training Me 262's of KG and KG(J) units in Bohemia
Training Me 262As
Me 262B Trainers
The authors have assembled an impressive amount of material for this title, from excerts of pilots' logbooks, combat logs, accident reports, order of battle/readiness, US reconnaissance reports, and much more. In addition, this title has an insteresting selection of photos of many artifacts collected from crash sites around the Czech countryside from Me 262 crashes (combat losses and otherwise). They've even had the opportunity to examine one of the aircraft used in this last combat effort that survived in a nearby museum awaiting restoration.
The title is well-illustrated with period black & white photos plus black & white and color photos taken by US personnel that captured many of these aircraft and flew them west to be divided among the allies for study. The authors also take a look at the Me 262B in this title even though it was not involved with the Czech-based retraining effort (though it might have reduced some of those non-combat losses).
As a bonus, JaPo has optional decal sheets in 1/48 and 1/72 available separately to replicate several of the aircraft featured in this title.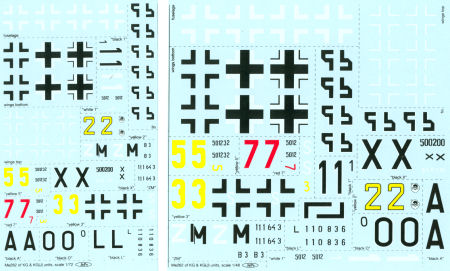 This is a nice piece of history that covers a much-overlooked effort to cross-train much-needed bomber pilots into the fighter ranks at the end of the war and doing so with the first operational jet fighter in the world, and all of the problems that entailed.
My sincere thanks to JaPo for this review sample! You can see some of the pages in this title here.