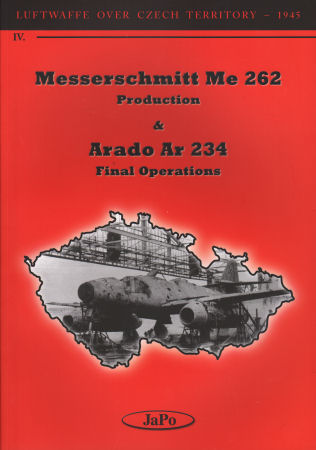 Messerschmitt Me 262 Production and Arado Ar 234 Final Operations Book Review
| | | | |
| --- | --- | --- | --- |
| Date of Review | January 2013 | Title | Messerschmitt Me 262 Production and Arado Ar 234 Final Operations |
| Author | David E. Brown, Tomas Poruba, Jan Vladar | Publisher | JaPo |
| Published | 2012 | ISBN | - |
| Format | 150 pages, softbound | MSRP (BP) | £29.95 |
Review
Quite often you'll pick up an interesting title that covers a subject of interest but usually winds up being a re-hash of one or more historical works of other authors. While sometimes the story telling gets better, the historical fidelity gets somewhat diluted with each recycle. It is refreshing to see a title come along that is not only based upon real research, that research is based upon first-hand forensics. This new title from JaPo is one of these titles.
This title looks at the production of the Me 262 and wraps up coverage of this series with various other findings not published in the first three volumes of this Me 262 series. In addition, the publishers appended the final segment of Arado Ar 234 combat operations to this volume to close out that series as well.
Coverage of this title includes:
Flugzeugwerk Eger GmbH (FWE) History 1940-44
Me 262 at FWE
Leichtbau GmbH Budweis (LBB) History 1942-44
Me 262 in LBB
LBB - Me 262A Service
Other Major Subcontractors Involved with Me 262 Program in Bohemia
Specific Aircraft
Other Jet Aircraft Over Bohemia
The authors have assembled an impressive amount of material for this series and this final installment provides a rare glimpse into the wartime production inside factories outside of Germany that provided some degree of security for the Me 262. The title is well-illustrated with period black & white photos plus numerous color profiles of Me 262 and Ar 234 aircraft operating from within Czechoslovakia.
This is a nice piece of history that covers a much-overlooked effort to make use of the production capabilities in captured nations to meet the wartime material needs of Germany.
My sincere thanks to JaPo for this review sample! You can see some of the pages in this title here.