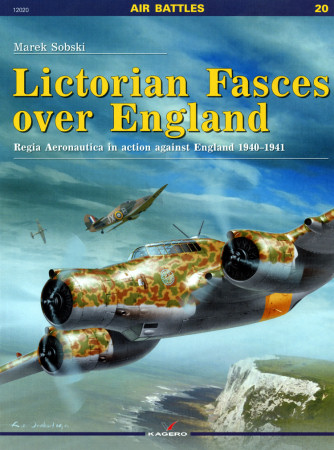 Lictorian Fasces over England Book Review
| | | | |
| --- | --- | --- | --- |
| Date of Review | June 2014 | Title | Lictorian Fasces over England |
| Author | Marek Sobski | Publisher | Kagero |
| Published | 2014 | ISBN | 9788362878963 |
| Format | 60 pages, softbound | MSRP (USD) | $16.95 |
Review
In the wake of Nazi Germany's stunning 1940 conquests, Mussolini sought to ride Hitler's coattails by committing Italian warplanes to attack Britain itself.
Kagero capably recaps those failed effort in Lictorian Fasces over England – the Corpo Aero Italiano (CAI) saga.
Subtitled "Regia Aeronautica in action against England 1940–1941", the book's first half reviews participating Italian combat aircraft – their general design, development and deployment.  Photos and color profiles augment the account.
Major Luftwaffe actions during the Battle of Britain ended by 17 Sept 1940 – the date Hitler suspended Operation Sea lion.  And CAI operations commenced over a month later.  Remaining contents chronologically course through those Italian actions over England.
Some color questions intrude.  Profiles depict Fiat CR.42 MM.5701 in two different schemes.  I prefer the back-cover art, suitably modified for the captured RAF aircraft – not the "green" warpaint on page 57.  Some Fiat G.50s did sport predominately "green" schemes – Verde Mimetico 53192 and Verde Mimetico 2/3.  But I've never seen other sources depict 352a Squadriglia G.50s in that livery.  Does Kagero know something others don't?
At best, the Corpo Aero Italiano scored scattered successes over Britain.  Italian actions squandered scarce resources – and taxed the limits of their obsolescent equipment.  Make this handy handbook your introduction to Mussolini's abortive assault on England.
Recommended.
With thanks to Casemate for the review copy!