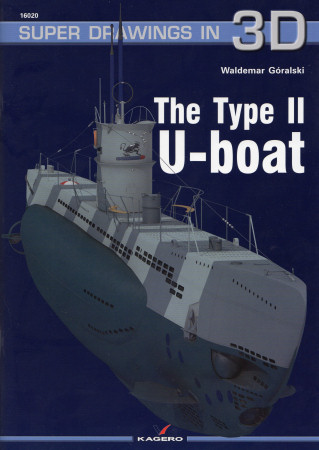 The Type II U-Boat Book Review
| | | | |
| --- | --- | --- | --- |
| Date of Review | April 2015 | Title | The Type II U-Boat |
| Author | Waldemar Goralski | Publisher | Kagero |
| Published | 2013 | ISBN | 9788362878642 |
| Format | 76 pages, softbound | MSRP (USD) | $22.95 |
Review
Kagero has a reputation of putting out informational books on eccentric subjects in armor, aviation and ships.  Many subjects they have taken on no one has done before so seeing a wonderful series of books presented this way was a great surprise.  Their 3D series of graphically illustrated books are focused on battleships, U-boats and even an aircraft carrier from the World War II era.  The battleships are from the U.S., Russian, German, Japanese and British Navies and are featured in the same graphical format.
The book was first published in 2013 and consists of 76 pages of drawings and loose foldout drawings.  The foldout drawings are scaled to 1/144.  There is very little text at the beginning at the book with a paragraph on each of the of U-boat Type II's development.  The drawings concentrate on the exterior of the boats and don't delve with any internal structures.
It would have been nice for a few arrows pointing out differences in the boats or modifications made during service.  The drawings are very interesting in that a few give you the perspective of what it would have looked like to actually be on the deck or motoring up to the side.  The line drawings are interesting to look at but they keep general information at a minimum.
I liked the book and think it is a great reference for modelers but I would have liked to seen photos of the actual submarine or more technical information to put the drawing in context better.  Maybe even some photographs of the only surviving Type II, the Finnish Vesikko that the measurements were taken from.  If you are looking for a service record or detailed history of Type IIs then you might want to look somewhere else.  This book would make an excellent companion book to a more technically oriented book on the Type II.  That being said it is an excellent value at around $15 to $23 on Amazon currently.