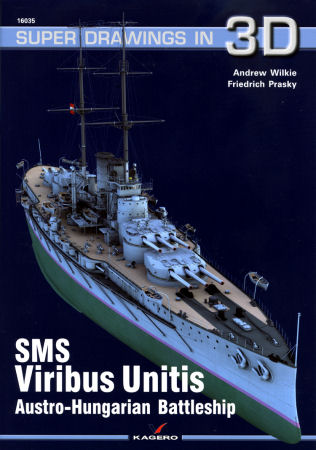 SMS Viribus Unitis Book Review
| | | | |
| --- | --- | --- | --- |
| Date of Review | January 2016 | Title | SMS Viribus Unitis |
| Author | Andrew Wilkie, Friedrich Prasky | Publisher | Kagero |
| Published | 2015 | ISBN | 9788364596643 |
| Format | 70 pages, softbound | MSRP (USD) | $28.95 |
Review
The second of four Tegetthoff Class Dreadnoughts, SMS Viribus Unitis served as the Austro-Hungarian Navy's flagship during World War I.
Now it's the subject of a copiously illustrated installment in Kagero's excellent "Super Drawings in 3D" series – available in North America from Casemate.
Contents follow the publisher's familiar format. And coverage commences with a competent, compact development and service summary.
Bearing Emperor Franz Joseph I's personal motto – "Strength in Unity" – the battleship spent most of its rather uneventful career safely anchored in the port of Pola – or engaged in gunnery practice. After passing to nascent Yugoslavia, Viribus Unitis was sunk by Italian Regia Marina frogmen, 1 November 1918.
Detail fanatics! Grab your drool cups!  Massive measures of minutiae monopolize the monographs's second half.
That's where you'll find nearly 60 pages of photo-realistic, 3D color plates. Pioneering 3-gun main turrets. Secondary armament. Superstructure. Masts. Propellers and rudders. Anchors, cranes and anti-torpedo nets. Even colors.
Unlike Kagero's other "Super Drawings in 3D", however, this one doesn't include scale plans. Those, a promo reveals, will come in a future "Top Drawings" edition.
Stem to stern, Kagero certainly offers amazing levels of Viribus Unitis details – including the warship's funky green anti-fouling paint and lavender boottopping.
But therein lies the most exasperating aspect of Kagero's stunning study: no one offers an injection-molded model of this beautiful battleship!
Sure, a couple 1:700-scale resin Viribus Unitis kits have appeared. But they're hard-to-find – and expensive.
Maybe Kagero's ripping reference will change all that. And we'll soon add plastic Tegetthoff Class Dreadnoughts to our display cases!
Rabidly recommended!
My sincere thanks to Casemate for this review sample!