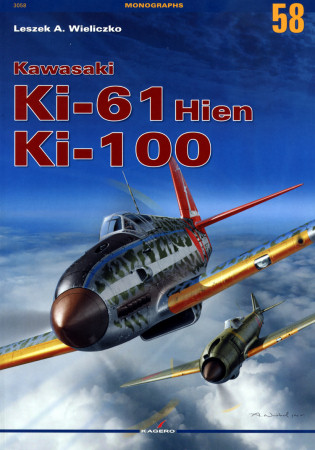 Kawasaki Ki-61 Hien / Ki-100 Book Review
| | | | |
| --- | --- | --- | --- |
| Date of Review | June 2015 | Title | Kawasaki Ki-61 Hien / Ki-100 |
| Author | Leszek A. Wiliczko | Publisher | Kagero |
| Published | 2015 | ISBN | 9788364596155 |
| Format | 116 pages, softbound | MSRP (USD) | $22.95 |
Review
In World War II Imperial Japanese Army Air Force service, nothing resembled Kawasaki's sleek Ki-61 Hein.
That's because it remains the only Japanese fighter with a liquid-cooled engine to see widespread production and combat.
Now it's the subject of superbly informative, beautifully illustrated study from Kagero – available in North America from Casemate.
Author Leszek A. Wiliczko's monograph really remains the story of three aircraft – the Ki-61, Ki-100 and Ki-60. And contents commence with illuminating design and development notes on all.
All other IJAAF fighters previously sported radial powerplant – and meager armament. Kawasaki's Hein, by contrast, principally employed the Ha-40 engine – an extrapolation of Daimler-Benz's legendary DB 601. Design variants also packed potent combinations of heavier 12.7mm machine guns and 20mm canon.
Operational history follows. There you learn that the Ki-61's unofficial combat debut surprisingly occurred during April 1942's Doolittle raid. That's when four Heins with ineffective practice ammunition attacked Capt Charles Ross Greening's B-25B. Greening's top-turret gunner reportedly scored hits on at least two of the unidentified enemy interceptors with inline engines.
Kawasaki's design soon began appearing in Asian and Pacific war zones. Its silhouette proved so singular, that Allied intelligence initially deemed it a version of Fascist Italy's Macchi C.202. And that's how the Ki-61 acquired its code name "Tony".
The unreliable Ha-40 liquid-cooled powerplant, however, proved difficult-to-maintain in typically hot, humid, dusty combat conditions. Spares were scarce, too. And deliveries of the inline engine further failed to match Kawasaki's airframe production pace.
So in a case of "convergent evolution" mirroring Lavochkin's La-5 development, Kawasaki replaced the inline propulsion with a compact radial. Thus emerged the Ki-100 Goshikisen – the IJAAF's last operational fighter to enter World War II service.
Wiliczko charts the story of Kawasaki's fighters through Imperial defeats in, for instance, New Guinea, Burma, the Philippines and Japanese Home Islands. And coverage concludes with notes on captured examples, appendices and selected bibliography.
Kagero expertly and authoritatively illumines its colorful subject. Extended captions, tables and annotations augment the account. And photos, color profiles and scale drawings – to 1:72, 1:48 and 1:32 – visually season the study. Modelers will really love this one.
Robustly recommended!
My sincere thanks to Casemate for this review sample!