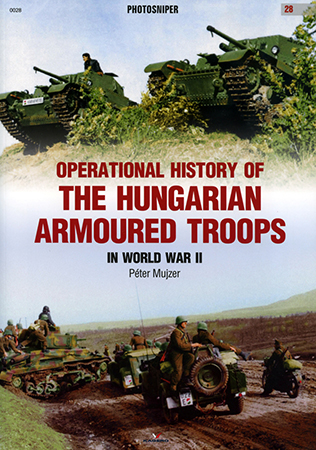 Operational History of the Hungarian Armoured Troops in World War II Book Review
| | | | |
| --- | --- | --- | --- |
| Date of Review | June 2019 | Title | Operational History of the Hungarian Armoured Troops in World War II |
| Author | Peter Mujzer | Publisher | Kagero |
| Published | 2018 | ISBN | 9788366148079 |
| Format | 160 pages, hardbound | MSRP (USD) | $34.95 |
Review
The title says it all.
Operational History of the Hungarian Armoured Troops in World War II continues Peter Mujzer's lavishly illustrated study of the subject.
Sequel to the author's Hungarian Armored Forces in World War II, Kagero's "Photosniper" study spotlights Hungarian units and personnel in combat over ten, chronologically arranged chapters and 160 pages. And action accounts – of both front-line and occupation forces – take center stage.
Coverage of the 1st Assault Artillery Battalion with indigenous Zrínyi vehicles and 1st Cavalry Division against the Soviets, for instance, proved particularly interesting. Fascinating, too, was Ensign János Bozsóki's single-handed rescue of the 2nd Reconnaissance Battalion and several Zrínyi assault howitzers.
Wow!
Surprise also abound. How about that "old-fashion cavalry charge" that shocked Russian defenders into abandoning their positions? Or those 1944 actions against Romanian forces? And how about those Italian tanks employed by Hungarian Gendarme and German police units during the siege of Budapest?
The picture-packed production sports photos, color profiles, colorized shots, and maps. But while Hungarian tankers and soldiers monopolize commentary, vehicles dominate photos.
Over 100 vintage shots illustrate Hungarian tanks, assault guns, armored cars, mobile artillery, half-tracks, and support vehicles. Even armored trains and captured enemy equipment appear.
Color & markings notes further tincture text. And explanatory captions accompany images.
But to rest, folks take "breaks" – not "brakes". Death produces a "corpse" – not a "corps". Those are vertical – not horizontal – bars on page 89's 40.M medium Turán shot.
Also, the meaning of some text frankly mystified me. And would Slovakia agree that the "Royal Hungarian Army was deployed in the Soviet Union and not against its neighbours"?
Additionally, I'd favor eliminating the colorized black-and-white photos for more pages of profiles. Colorized archival images simply aren't historically authentic.
Still, absent these and other nitpicks, Operational History of the Hungarian Armoured Troops in World War II remains illuminating, interesting, and impressive. I enjoyed it.
My sincere thanks to Casemate for this review sample!