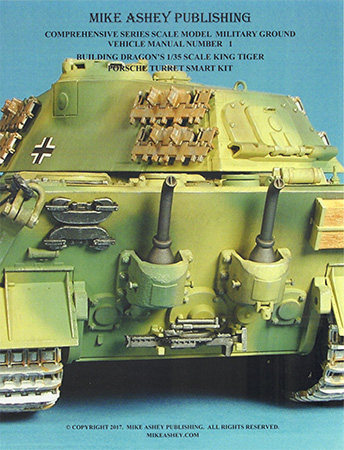 Building Dragon's 1/35 Scale King Tiger Porsche Turret Kit Book Review
| | | | |
| --- | --- | --- | --- |
| Date of Review | September 2017 | Title | Building Dragon's 1/35 Scale King Tiger Porsche Turret Kit |
| Author | Mike Ashey | Publisher | Mike Ashey Publishing |
| Published | 2017 | ISBN | - |
| Format | 16 pages, three-ring | MSRP (USD) | $5.25 |
Here's a relatively new publisher - Mike Ashey Publishing. Mike decided to combine the intuitive step-by-step photo-based instructions together with a format that is easy to use on the workbench. This title covers the Dragon (DML) 1/35 King Tiger Porsche Turret Smart Kit release, but you'll find interesting techniques for a variety of armor builds.
If you look at the sample image, you can see a similar format to some of the better European modeling magazines (when you can find them), but unlike those magazines, each title is focused on one subject from beginning to end and has no advertising. What's more, each title comes wrapped and ready to be loaded into a three-ring binder. With this binder approach, you can open each page flat without fighting the binding or breaking the binding of some publications. Each page is printed with full-color photography and instructions provided in English only.
This relatively short title walks you from beginning to end of the DML King Tiger and while overall the kit is a relatively easy build, it still has some minor issues that the author shows you how to fix. One area I found fascinating was the author's approach to track links. The kit features the so-called 'magic track' but he experienced the same problem many of us have - the track doesn't 'snap' together. His solution is simple yet innovative. He shows you how to assemble the tracks into subassemblies that are ready to be mounted onto the tank (complete with track sag) but are easily removable so you can finish painting and weathering the road wheels and track separately before the final application of glue.
There are other unique approaches to gluing and filling that I've used on other models, but hadn't considered for armor. I will now. While I know many talented armor modelers that assemble their projects before painting, I'm one of those that prefers to paint subassemblies before final assembly, touch-ups, and weathering. This title solves several aspects of how to successfully use my preferred approach using the techniques provided here.
One other advantage to this series is that you can order what you need, when you need them, or collection them all for future projects.
My sincere thanks to Mike Ashey Publishing for this review copy!