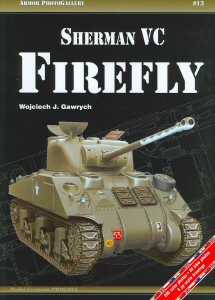 Sherman VC Firefly Book Review
| | | | |
| --- | --- | --- | --- |
| Date of Review | November 2005 | Title | Sherman VC Firefly |
| Author | Wojciech J. Gawrych | Publisher | Model Centrum Progres |
| Published | 2005 | ISBN | 83-920254-6-6 |
| Format | 80 pages, softbound | MSRP (USD) | $47.95 |
Review
The Firefly was the name given to the Sherman tanks re-armed with the 17 pdr main gun. Unlike US tanks, the 17 pdr (and therefore the Firefly) was distinguishable by its long barrel and muzzle brake. Of all of the Shermans in Europe, it was the Firefly that the Germans were most concerned with as that main gun was effective against German armor at combat ranges.
The Firefly VC was an M4A4 Sherman that was modified by the Royal Ordnance Factory to accept the new gun and added a few other distinctive features to meet the Royal Army's requirements.
The author has done a great job bringing the Firefly into focus. The first 48 pages are full-color detailed shots of just about every nook and cranny in Belgium's Royal Museum of the Army Firefly VC. If you are modeling this tank, you definitely have as much color and detail information about everything inside and outside the tank.
The next 14 pages provide a series of line drawings and manufacturer's detailed photos of specific features in the tank. These are useful for further detail information, especially the nice clear shot of the driver's instrument panel.
The remainder of the title provides a nice photo history of the Firefly in action illustrated with numerous period black and white photos. In all, there are 260 color photos and 45 B&W photos used to illustrate this title. Each photo is captioned in-depth providing the reader with lots of good information.
If you're looking for the perfect reference build your next Sherman Firefly, this is what you've been waiting for! Definitely recommended!
My sincere thanks to Squadron Mail Order for this review sample!