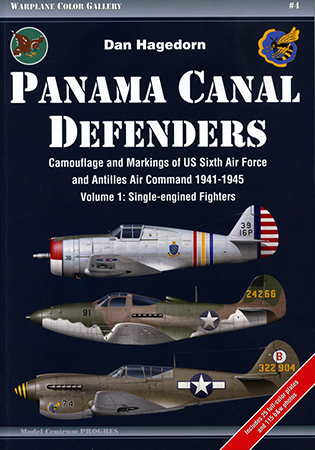 Panama Canal Defenders Book Review
| | | | |
| --- | --- | --- | --- |
| Date of Review | February 2022 | Title | Panama Canal Defenders |
| Author | Dan Hagedorn | Publisher | Model Centrum Progres |
| Published | 2022 | ISBN | 9788360672341 |
| Format | 64 pages, softbound | MSRP (USD) | $41.95 |
Review
Bored with monotonous olive drab over neutral gray USAAF schemes?
Grab this stunning study.
Available in North America from Casemate, volume 1 of Panama Canal Defenders surveys the pungent plumage of "Sixth Air Force and Antilles Air Command" single-engine fighters during WWII.
Four classic pursuits dominate author Dan Hagedorn's colorful compendium from Model Centrum Progres' "Warplane Color Gallery" range:
Boeing P-26,
Curtiss P-36,
Bell P-39, and
Curtiss P-40
Introductory notes lay the groundwork for core commentary. These and four subsequent, subject-specific sections sport rare period photos, extended captions, unit remarks, and operational details.
Hagedorn suggests that, especially from 7 December 1941 through December 1943, Sixth Air Force personnel – effectively serving rear echelon, away from main combat theaters – enjoyed lavish latitude in concocting local warplane liveries.
That, Hagedorn concludes, accounted for the "near chaos" of Sixth Air Force color and markings "deviations" – for which we modelers remain eternally thankful.
That's abundantly apparent in the book's final part. There you'll find 16 stunning color profiles with inset art by Arkadiusz Wróbel, a supporting photo of each subject, and descriptive text.
What a ripping read! Volume 1 of Panama Canal Defenders perfectly complements the author's authoritative Alae Supra Canalem: Wings Over the Canal – 1995's definitive Sixth Air Force history.
But a shadow simply created the illusion of two-color dorsal camouflage on P-40B 41-5283, page 46. And – pretty please – for subsequent volumes, could the profile reference shots be reproduced larger?
Now line-up behind me for future sequels. With recent revelations of Sixth Air Force bomber camouflage, they only promise to get better!
Rabidly recommended!
With thanks to Model Centrum Progres for the review copy. Soon available in North America from Casemate.