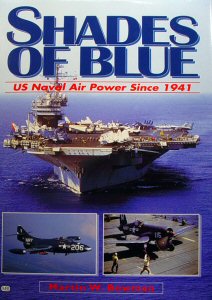 Shades of Blue Book Review
| | | | |
| --- | --- | --- | --- |
| Date of Review | February 2006 | Title | Shades of Blue |
| Author | Martin W Bowman | Publisher | MBI Publishing Company |
| Published | 1999 | ISBN | 0-7603-0844-6 |
| Format | 140 pages, hardbound | MSRP (USD) | $29.95 |
Review
"Shades of Blue" US Naval Air Power Since 1941 by Martin W Bowman is from East Anglia and has traveled to over 18 different countries in search of aviation history. He has flown into war zones in Somalia and Bosnia to photograph modern air warfare in action. He is a prolific writer who has written over thirty books on aviation and is a regular contributor to US and British publications.
Shades of Blue starts with the beginning of World War Two in the Pacific. Many of the color photos are intermixed with modern and restored aircraft. A few times it is pointed out but for most part, unless you are up on your restored aircraft, you might get the two confused. This is also a compliment to the excellent vintage photographs and their transfer to the printed page. Some of my favorite is the Korean Era photos. A must have of a neglected area in model building in my opinion.
The pictures are printed in chronological order they were developed and make sense to the text. Bowman did a very good job in this area. Most of the verbiage is explaining the accompany photographs. There are about 20 pictures I have never seen before making this a keeper for my collection.
There is nothing really ground breaking in this publication. Good photo transfers, high quality paper and a few photos that are new to me. You can find this book on the sale racks for as little as $10.00. I highly recommend it for an addition to your collection.