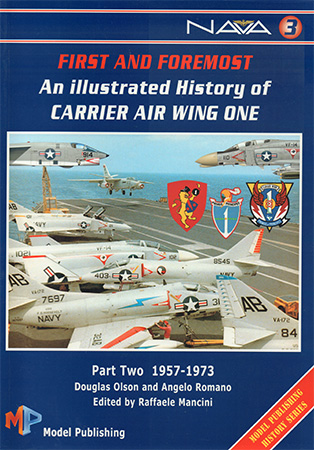 First and Foremost - An Illustrated History of Carrier Air Wing One Pt.2 Book Review
| | | | |
| --- | --- | --- | --- |
| Date of Review | September 2018 | Title | First and Foremost - An Illustrated History of Carrier Air Wing One Pt.2 |
| Author | Douglas Olson and Angelo Romano | Publisher | Model Publishing |
| Published | 2008 | ISBN | 88-89392-03-7 |
| Format | 136 pages, softbound | MSRP (Euro) | 25,00€ |
Review
First and Foremost - An Illustrated History of Carrier Air Wing One Part 2 is an interesting reference put together with the modeler and naval aviation historian in mind. Part One of this series starts off from the formation of Carrier Air Group One in 1934 through 1957. This title picks up the coverage of CVG-1/CVW-1 from 1957 through 1973, so you'll see the evolution of the US Navy's air wing from the perspective of deployments, aircraft composition, and color schemes carried as CVW-1 operated from a variety of aircraft carriers during this timeframe.
Coverage of this title includes:
1957 - North Atlantic Cruise Aboard USS Forrestal (CVA-59)
1958 - Caribbean Cruise
1959 - Mediterranean Cruise
1960 - Med Cruise
1961 - Operation Blow Torch
1961 - Caribbean Contingency Cruise
1962 - USS Enterprise (CVAN-65) Shakedown Cruise
1962 - Joint Chiefs of Staff Orientation Cruise
1962-63 - Mediterranean Cruise
1963 - Haiti Crisis Cruise
1963 - CVG-1 Redesignated CVW-1
1964 - Mediterranean Cruise
1965 - Med Cruise
1966 - A Busy Year
1966-67 - Vietnam War Cruise
1967 - Ashore
1967-68 - Med Cruise
1968 - USS Pueblo Crisis and Reserve Call-Up
1968 - USS John F Kennedy (CVA-67) Shakedown Caribbean Cruise
1969 - Mediterranean Cruise
1970 - Ashore
1970-71 - Caribbean, Mediterranean, and North Atlantic Cruise
1971-72 - Mediterranean, and North Atlantic Cruise
1973 - Med, North Atlantic Cruise, and the Yom Kippur War Crisis
Despite the wing's deployment aboard some of the above carriers, CVG-1 spend most of its time aboard the USS Franklin D Roosevelt when not ashore at NAS Cecil Field. In 1968, CVW-1 was reassigned to the USS John F Kennedy. This title does an excellent job tracing the deployments and assignments of this air group/wing throughout the period of 1957-1973.
Each section is well-illustrated with a combination of period color and black & white photographs, as well as a selection of color profiles. Each section also provides tables outlining the squadrons assigned to CVG-1/CVW-1, changes in aircraft type and strength, as well as their modex assignments. While there isn't a table for each month in this timeframe, you'll see by the numerous tables how squadrons were swapped between air wings as well when squadrons would go offline to transition and qualify in newer aircraft types. The narrative that accompanies each section does a great job of describing the major events during that timeframe and the changes that were made and why.
While this title is a nice reference on its own, Model Publishing's sister company, Meridia Hobby, has started producing decal sets for the F-4Bs assigned to CVW-1 during the Vietnam War Cruise. We'll look at this separately, but it is great to see decals based upon the research that created this title.
This is a great reference and though it has been a decade since their last title, hopefully Model Publishing will release Part Three for CVW-1 as well as carry on this format into other air wings!
My sincere thanks to Meridia Hobby for this review sample!