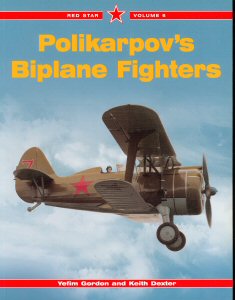 Polikarpov's Biplane Fighters Book Review
| | | | |
| --- | --- | --- | --- |
| Date of Review | November 2005 | Title | Polikarpov's Biplane Fighters |
| Author | Yefim Gordon | Publisher | Midland Publications |
| Published | 2002 | ISBN | 1-85780-141-5 |
| Format | 128 pages, softbound | MSRP (USD) | $27.95 |
Review
One fighter that tends to get overlooked in the history books is the Polikaprov I-153. Since biplane fighters were deemed obsolete at the beginning of World War 2, this fighter, along with the I-15 and its predecessors usually fall into an obscure footnote. Nevertheless, these aircraft did engage the Wehrmacht and Luftwaffe to stall for the time needed for the Soviet War Machine to get up to speed. These aircraft, while outclassed in certain aerial encounters, did inflict damage and casualties on the German's advance. As with any country thrust unexpectedly into war, you fight with what you have!
Of course, if it is Soviet aviation-related and there hasn't been any quality titles covering the subject, you can count on author Yefim Gordon to rummage through the archives and assemble an impressive reference. This title is no exception!
The title provides the following breakdown of coverage:
Introduction
Early Endeavours - First Failures and First Successes
I-5: Born in Prison
The Legendary Chato
I-15bis: Super Chato - or Prejudice Prevails
The Return of the Gull
The Last of the Kind
Line Drawings
Colour Drawings
This title walks through the development of the biplane fighters like the I-5, I-14, I-15 Chato, I-15bis Super Chato, I-153 Chaika, and the I-190 experimental fighter that would be the last attempt to draw more performance out of a biplane design before pushing ahead into the monoplane designs.
In addition to the historical and technical coverage of this unusual fighter, the author has also provided line drawings of the aircraft and 60 color profiles.
This is another nice historical piece from Midland Publications and fills a void in the published information about this aircraft. Definitely recommended!