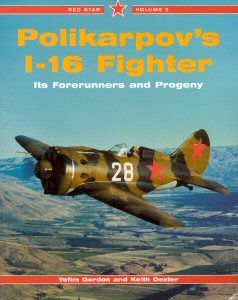 Polikarpov's I-16 Fighter Book Review
| | | | |
| --- | --- | --- | --- |
| Date of Review | July 2005 | Title | Polikarpov's I-16 Fighter |
| Author | Yefim Gordon | Publisher | Midland Publications |
| Published | 2001 | ISBN | 1-85780-131-8 |
| Format | 126 pages, softbound | MSRP (USD) | $27.95 |
Review
One day not long ago, I was building the Academy I-16 and had a ball with the project. It wasn't until one knowledgeable observer pointed out some inaccuracies in the kit. Since this Polikarpov fighter is one subject not covered in my technical library, it was time to fill in the gap!
I wasn't surprised to see that Yefim Gordon had addressed this unique aircraft as one of the 'Red Star' series from Midland Publications. The author has compiled a nice array of historical photos of the I-16 as it evolved to meet the growing threat.
What's so interesting about this aircraft? Let me try to put it into perspective. Most of us have seen a Cessna 172. The I-16's dimensions are smaller than the 172. The Type 10's fully loaded weight is about 1500 pounds greater than the Skyhawk (2300 pounds), understandable with four machine guns, etc. Then there is the engine. The Cessna 172 is powered by a 150 horspower engine. The Type 10 had five time the horsepower at 750! A smaller, more agile aircraft with five times the horsepower and less than twice the weight. Add that open cockpit and it had to be quite an airplane to fly!
What is interesting is that the title doesn't start coverage with the Polikarpov I-15, since the I-16 airframe was an outgrowth of the biplane fighter. Instead coverage begins with the IL-400b, a corrugated metal low-wing aircraft where Polikarpov gained his experience with monoplane designs.
Coverage of this title includes:
The Ancestors
Enter the I-16
Version Briefing
Prototypes & Projects - The I-16 in Mass Production
Ishachok Anatomy
The I-16 in Action
The 'Super-Ishachok' and Other Successors
In addition to the historical and technical coverage of this unusual fighter, the author has also provided line drawings of the aircraft and 64 color profiles. The title is rounded out with color photographs of restored I-16s in museums and elsewhere.
This is another nice historical piece from Midland Publications and fills a void in the published information about this aircraft. Definitely recommended!