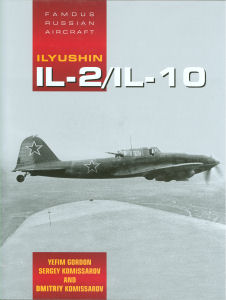 Ilyushin Il-2/Il-10 Book Review
| | | | |
| --- | --- | --- | --- |
| Date of Review | March 2010 | Title | Ilyushin Il-2/Il-10 |
| Author | Yefim Gordon, Sergey Komissarov, and Dmitriy Komissarov | Publisher | Midland Publications |
| Published | 2010 | ISBN | 978-1-85780-322-8 |
| Format | 432 pages, hardbound | MSRP (USD) | $79.95 |
Review
Midland Publications has released this outstanding title on the Il-2 and Il-10 Shturmoviks. Compiled and written by Yefim Gordon, Sergey Komissarov and Dmitry Komissarov, this title is the most in-depth look at the aircraft ever published in English.
Any more, I have a standing order for any Midland Publications title by Yefim Gordon. He and his team have consistently provided awesome coverage of every subject they've tackled including the Su-27, MiG-29 and MiG-31. This latest effort is no exception.
This title is crammed with period black and white photography of the Il-2 and its cousins, and most of these photos have not appeared in print in the west before now. In fact, I have a number of Russian-language titles on the subject that I've collected over the years due to the lack of adequate coverage in other languages, and most of the photos in this new book don't appear in those earlier titles either.
Coverage of this title includes:
Introduction
Pre-War Soviet Attack Aircraft
Prototype Development of the Il-2
The Il-2 - Single-Seaters
The Il-2 - Two-Seaters
Series Manufacture of the Il-2
The Il-2 in Action
They Fought in the Il-2
The Il-2 in Foreign Service
The Il-2 in Detail
The Il-1 and Il-10 Prototypes
The Il-10 - Production Versions
The Il-10 in Action
The Il-10 in Foreign Service
The Il-10 in Detail
The Il-8 and Il-16 Attack Aircract
The Il-2 and Il-10 in Museums and Collections
Among this outstanding collection of photos are a number of excellent images from the combat cameras, two of which show the chaos created upon a German convoy of horse-drawn cargo wagons as the photographing aircraft pulls off target after straffing the convoy and his two comrades have started their runs. The horses are scattering to the four winds and taking their hapless German drivers and the wagons for a cross-country excursion.
If you're been interested in this subject and have made use of the available references, you can see for yourself the superficial coverage this flying tank has received in those previous works. The photographs are accompanied by some excellent narrative to describe the aircraft, the design and production efforts, the pilots, the ground crews, and the combat operations that saw this distinctive aircraft blunt and eventually destroy the Germans' armored assault into the Soviet Motherland.
The title also provides an impressive array of color profiles of the aircraft from their initial production colors and their initial service camouflage patterns to the wide variety of distinctive seasonal and patriotic color schemes.
This title is a must-have for Soviet aviation historians and modelers alike. There are no other references on this subject with such excellent coverage of the Shturmovik. This is another excellent title from Midland Publications and fills another void in the published information about this aircraft. Highly recommended!