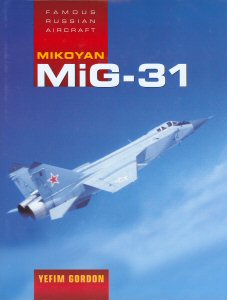 Mikoyan MiG-31 Book Review
| | | | |
| --- | --- | --- | --- |
| Date of Review | November 2005 | Title | Mikoyan MiG-31 |
| Author | Yefim Gordon | Publisher | Midland Publications |
| Published | 2005 | ISBN | 1-85780-219-5 |
| Format | 224 pages, hardbound | MSRP (USD) | $44.95 |
Review
Author Yefim Gordon has been turning out quite a few informative titles covering many previously sensitive or simply ignored aircraft of the former Soviet Air Force. In more recent releases, the quality and extent of the color photography has been steadily growing. Then he released this title.
This book covers the development, design, and operations of MiG OKB's MiG-31 (NATO Codename: Foxhound). I was completely gobsmacked when I opened the cover of this one. Gordon and Midland Publications have significantly raised the bar on the quality of their aviation titles!
Before I get carried away about the book, let me fill you in on the aircraft itself. The MiG-31 is a significant leap in interceptor capabilities. Built along the lines of the MiG-25P Foxbat, the similarity ends with general appearances. Where the MiG-25P was a single-seat, Mach 2.8+ interceptor, the MiG-31 is a little slower, adds a second crewman to serve as the weapons system operator, replaced the thirsty Tumansky engines with more fuel-efficient Solov'yovs. Many have assumed that the MiG-31's design benefited from the F-14 Tomcats that became available after the fall of the Shah of Iran. In fact, the MiG-31 shares a number of similarities with the F-14, and one very nice part of this title is the authors comparison and contrast of the two aircraft. These comparisons include the initial R-33 missiles that bare a striking similarity to the AIM-54 Phoenix, plus a look at the more advanced missiles subsequently adapted to the aircraft.
Another interesting aspect of this particular title is the quality of the detail images in and around the aircraft, especially in the cockpit. The author has even provided extensive performance specifications for the aircraft, its weapons and many of its internal subsystems. As I said, this title is THE best coverage of a former Soviet fighter I've seen and I can't think of too many books covering US or NATO aircraft that are equivalent to this title either.
Coverage of this title includes:
Introduction
Taking Shape - Foxbat Becomes Foxhound
The Kennel - Foxhound Versions
MiG-31 In Action
Foxhound Versus Tomcat
Structural Design, Systems & Armament - The MiG-31 in Detail
Line Drawings
Colour Drawings
Record Achievements
This is an excellent title from Midland Publications and fills another void in the published information about this aircraft. Highly recommended!